The love of the Sparkle Season
Norwin High School Show Choir support local Hearth Foundation.
Since the start of the Show Choir in 1998, and then the Expressions of Harmony Foundation in 2011, the Show Choir has worked to support local women in need. The Hearth Foundation supports women and their children recovering from abusive situations and provides them the support to get back on their feet. 
"Last year, around this time of year, seeing all of the people and getting to interact with all of the kids that we helped out, it really inspired me," said Show Choir officer, Alex Fumero. "I've always been the kind of person that believes in giving back but didn't know how so being an officer in show choir has definitely given me that sense of fulfillment that I'm doing the best I can to at least make one person's holiday season just a bit brighter."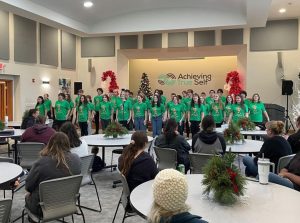 After collecting donations at shows and caroling throughout the township on Dec 4, they raised over $11,000 in support of the many families this holiday season. 
Every year the Norwin Show Choir provides women with the opportunity to give their children gifts to open on Christmas. Each member of the Show Choir sponsors a child getting them a gift and a stocking to open, and through the donations, each woman is given a gift card to Target. 
"We got to get gifts for each of the kids," said Show Choir treasurer, Erin Alexander. "Each Show Choir member sponsors a kid, gets them a gift, and it what they want from Santa, because a lot of these families had to uproot everything and leave so they don't really have the resources to necessarily get their kids what they want or what they need."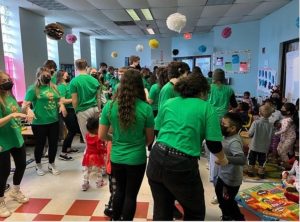 In addition to the gifts, they throw two parties, a Christmas party, and a collective birthday party. The Christmas party was held on Dec 15 this season. 
"It's really rewarding to see all of the hard work that we put into it and see the finished product, and how much the kids enjoy it and how happy the kids are," said Alexander. "I love spending the night with the kids and dancing with them, it's just very rewarding."
The impact of show choir continues on and off the stage and their hard work and generosity touch the lives of many.