Stickers for every reason

COVID-19 came with many surprises, one of them being the added extra time away from school. Almost everyone started a new hobby to make use of this extra time, but soon forgot them when school restarted. However, senior Morgan Tote did not. 
Tote launched her sticker business on the 28 of July 2020. Her sticker collections range from quirky quotes to your favorite Dunkin Donut cup or Chick-fil-A fries. 
With her business being only a few months old, she has gained a large following audience with 1240 followers on  Instagram in just 5 months.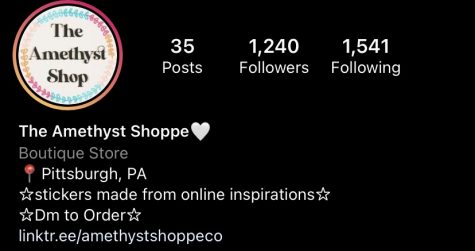 "I started this because I was bored and at the time I had planned to go to college for Art education," Tote said. "I've always loved art and it became my passion." 
Tote since decided to study education and art separate as she has a passion for both disciplines. In the dark times that COVID-19 has brought, it can be hard to stick to one's passion and follow through with a task. 
"What inspired me is just wanting my art to be out. I wanted people to see what I can do."      Tote markets her business on various social media platforms, using Instagram as her main marketing tool. She also uses platforms such as Depop, Tik Tok and Facebook.
     With starting a new business there are many things to take into account; for one, the start up cost can be discouraging to many. 
     "I spent so much money starting this business up. I'd say I've put about $1000 or more into this business, but I've made than that so it balances out." 
     Her prices seem too good to be true with sales ranging from $1-$12+ depending on the size and quantity of the stickers. 
     "$12 for a sheet of custom sticker and that's been my steady rate.". 
     In starting a small business it's hard to be recognized by large customers. Tote faced this issue until she was contacted by Slippery Rock University to collaborate on a fundraiser. 
     "My first reaction was: 'Is this a fake?' I didn't believe I was that good to get a college messaging my business for fundraisers."
     Tote designed a variety of stickers for the University's fundraiser, with Slippery Rock and the St. Jude's foundation as the theme.
"We donate 25% of the proceeds to St Jude's, which is over $500 dollars."
     Doing this collaboration not only helped in raising funds, but it also allowed her business to gain exposure and experience. 
     "I have grown. When I started this, I had about 100 followers. I've grown so much in only five months of my business." 
     The future of Tote's business looks bright as she continues to design and customize stickers to supply a wide range audience. 
     "It doesn't cost anything to support a small business. Follow them, interact with their posts, comment, like, do whatever. It helps a lot."