Blood, sweat, and cheer
Norwin's Competition Cheer team has had plenty of ups and downs this season, juggling new coaches and fierce opposition for the past several months, but with Nationals at Disney this week, their season is not over yet. 
The team has gone to several competitions this year, including Thomas Jefferson High School's Jagfest, the UCA Ohio Regional in Columbus, Ohio, the Bethel Park South Hills Showdown, Robert Morris college's Battle in the Burgh, and WPIAL championships at Hempfield. Though they didn't win every meet, the Competition Cheer team still accomplished a lot.
"
The cheer season has had a lot of ups and downs this year. We have fought through tons of injuries and roster changes and through it all the team has worked very hard and had success on multiple occasions.
— Molly Geissler (10)
"Our first competition of the season was at Thomas Jefferson High School, which was super successful for our first one," said Quinn Whittaker (11). "Our routine was very good for performing for the first time, as well as winning it too! We traveled to Olentangy Orange High School, right outside of Columbus, Ohio, and got our bid to our next competition,  UCA Nationals in Disney. We competed at a 'normal' competition one more time at RMU in December, which was a great way to start the road to WPIALS in January. We competed at the WPIAL competition in hopes of gaining a bid to the PIAA State Championships in Hershey, PA. Although our goal did not go as planned, we still have one last time to compete in Disney and we are very excited for that!"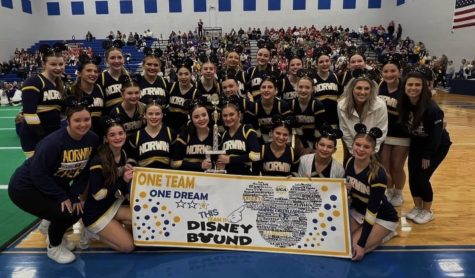 Hopes are high for Nationals at Disney, with many of Norwin's cheerleaders aiming to make it through the first round. The team has been working hard in the weeks leading up to Nationals in preparation for a win.
"I think that we will perform well in Disney," said Avery Jarusinsky (11). "My hopes are that we hit a perfect routine and move on to finals. I want everyone to walk off the mat feeling proud and confident!"
Even without a win at Disney, Norwin's Competition Cheer team has had a positive experience this season. Though they did not win every competition, they worked together, and formed a bond not many teams can compete with.
"Having a team environment that feels like a family is crucial, especially in a team sport like competitive cheerleading," said Whittaker. "Our team has had ups and downs, and challenges to overcome, but we remained supportive and determined to have the best season yet. Mat Talk is super important when it comes to doing a routine, so every time we go full out, everyone is saying 'you got it,' or 'we got it,' and being overall super supportive of everyone. It makes it easier to do the stunts and tumbling in our routine if you know people have your back and want you to succeed just as much as you want them to."
Many members of the team shared similar sentiments.
"The environment of cheerleading is like no other," said Molly Geissler (10). "The team has built such a bond and relationship and we will always be there to cheer each other on. "
"
The feeling during a cheer competition is like a blur- you spend hours and hours stressing out about hitting your routine that when the music actually starts, you don't have any more time to think; your body simply goes on autopilot.
— Molly Geissler (10)
With this year's season coming to a close, the biggest takeaway Norwin's Competition Cheer team has is to enjoy every moment. The road to Nationals was long and hard, but so worth it for the feeling cheerleading brings to the team.
"I've been competing at cheer competitions for about 6 years now, and the feeling never gets old," said Whittaker. "The nerves that build up throughout warm ups, doing every superstition you can think of, and the moment your team name gets called, it's all exciting and nerve racking. When competing, your muscle memory is your best friend, especially when competing at nationals. The competition itself is huge, adrenaline pumping, and overall just enjoyable to be at. The feeling of getting off of the floor knowing you did your best and gave it all is so worth all the blood, sweat, and tears we have put into this."