Indoor track fighting for more in '23
Norwin's track and field teams had excellent seasons in 2022. If their winter performances are any indication, though, they have the potential to be even better this year.
So far this indoor season, the Knights have performed in several winter meets at Edinboro University and Youngstown State University, and each has seen stellar marks for Norwin athletes.
Notably, senior pole vaulter and Northeastern University commit, Hannah Shaw, picked up right where she left off from her state-qualifying season in 2022, producing five top-5 finishes in as many meets, including a winning performance in Youngstown State's first open meet of the year on Jan. 14. This year, Shaw will attempt to return to the PTFCA Indoor Track and Field Championships, as well as break the indoor pole vault school record, which stands at 11 feet, 6 inches.
Sophomore Melani Schmidt has also been dominant for the Norwin girls so far; at Youngstown's meet on Feb. 4, she took home third place in the 200 meter dash and fourth place in the 400 meter dash with times of 26.96 and 1:02.76, respectively. She has already improved upon her time in the 400 by two seconds from last season, and in the coming months, she's hoping to shave off a bit more.
"For the spring, I want to break 60 [seconds] in the 400," Schmidt said.
Overall, the girls retain much of their team from last year — one which won the WPIAL South section semifinal. They will need to replace three-fourths of their 4×400 meter relay team, which placed 7th at the PIAA Championships, but they have a strong core of young and experienced athletes ready to take the reins.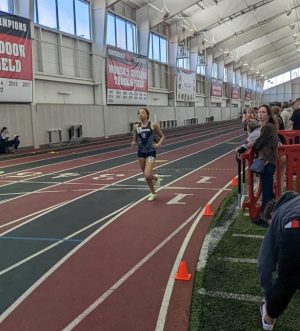 "A lot of [the younger athletes] got to see excellence last year," head coach Timothy Van Horn said. "They've seen what's come before them, and they've been a part of that as well, and they want to keep that tradition going. They're working their tails off right now."
On the distance side, seniors Emma Jiancristoforo and Anna DeFazio (Robert Morris & St. Francis commits) will lead a battle-tested crew that returns several athletes who qualified for the WPIAL Individual Finals last year.
The boys, meanwhile, also have a strong chance to return to the WPIAL Team Championships. They lost Aaron Schmook and Cody Scherle, the WPIAL champion and runner-up in the javelin, as well as hurdler Anthony Singer, who ranked 8th in the WPIAL in the 300 meter hurdles and 11th in the 110 meter hurdles last year, but much of their young roster is steadily improving.
Senior Trey Huha, a sprinter and jumper who was the team's highest point scorer in 2022, took home 3rd place in the long jump at Youngstown State's third open meet with a distance of 20 feet, 2 inches. Huha has consistently been the most versatile performer for the Knights, often taking on four events in a meet.
Complementing Huha is distance runner Andres Breauchy, another senior looking to lead the team. Breauchy finished 8th in the 3200 meter run at Youngstown on Feb. 4 with a time of 10:10, a personal best by 15 seconds. In the fall, he led Norwin's cross country team to a 7th place finish at the WPIAL championships; now, he's expecting his distance squad to lead the team to some quality wins.
"Last year, we had guys like Aaron [Schmook] and Cody [Scherle] to help us get some wins when the distance crew wasn't doing much," Breauchy said. "Now that they're gone, we're going to have to step up and help score some points."
In addition to their veteran stars, the Knights also have a boatload of young talent. Freshmen Joe Cramer and Jeremiah Francis finished 11th and 13th in the 400 meter dash at Youngstown, both clocking times under 56 seconds. Meanwhile, sophomore Ryan Schiller, who sustained a season-ending ankle injury in 2022, is back in action. He has produced three top-ten finishes so far this season in the 60 meter hurdles, running a personal best 9.12 seconds on Feb. 4.
"With the boys' team in general, we have more depth [this year] than what we've had in recent years," Van Horn said. "The big thing is that a lot of them have goals, and they have a lot of fun competing. When competition is fun, everyone wants to do it."
Of course, both teams will be looking to repeat as section champions in the spring, something they have secured in five straight seasons. Their biggest competition will almost certainly be Hempfield Area, their last section opponent of the season; in 2022, the boys beat the Spartans by a score of 84-66, while the girls won 83-67, the two closest margins of the season.
"You could have the same conversation every year," Van Horn said. "The Hempfield meet is always the biggest meet that we have in the section. When you look on paper, the matchup is pretty even. As long as we keep working, improving and competing, I think it's going to play out like that."
On top of everything, the team has an added wrinkle this winter. Indoor Track has never been recognized as an official sport by Norwin School District — but Van Horn is trying to change that. He has collected data throughout the season to show the level of participation in the sport, and he expects that these changes could be in line after the current season.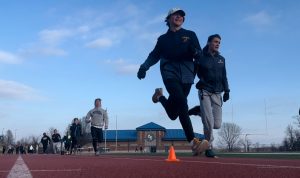 "I think the biggest thing is the finances," Van Horn said. "It's definitely not the participation. We have over 70 athletes participating. When we talk about these schools like Hempfield, North Allegheny, Butler, they all have it as an official sport, and they're taking multiple buses to these meets."
With these challenges in store — especially the expectations they set for themselves last year — the Knights could be fighting an uphill battle this year, but they appear ready to take anything on.
On Saturday, they will compete at the TSTCA Championships at Edinboro University, and on Feb. 25, a few of Norwin's athletes will travel to State College for the state championships. After that, their focus shifts to the spring, and they will try to return to the heights they reached in 2022.