Something new is sizzling up in North Huntingdon
This article is a following review of Waffles INCaffeinated.
On February 9 a new Breakfast & Brunch restaurant called Waffles INCaffeinated opened up in North Huntingdon, located beside Jersey Mike's on Mills Drive below Walmart.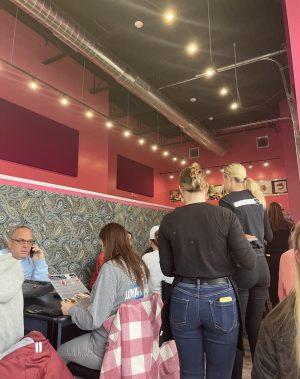 When I first arrived on opening weekend, I was welcomed by nice staff and bright colors throughout the restaurant. Each Waffles INCaffeinated location has different color walls in each location, in our North Huntingdon location the walls are pink.
The restaurant itself is not very large. There's a moderate amount of seating but it is very squeezed together and because it was so busy it seemed very crowded in the upfront waiting area. When waiting for my food it did take awhile, but it was very busy that day so it is understandable.
I ordered a create your own waffle which is set at a reasonable price of around $8.00 (not including added toppings). There are many topping options to add to your waffle ranging from marshmallow fluff to salmon or chicken on top of your waffles. With my waffle order, I added a side of sausage to my order, as well as an iced cappuccino. There were many other options on their menu including, "O-MY-LETTES" (omelettes), French Toast, BLT's, Breakfast tacos, Crepes and more! They also have options if you have any dietary restrictions.
Here is my review of the following items:
Iced Cappuccino
Rating: 5/10
I ordered the Iced Cappuccino, It was very bitter to me and there wasn't much flavor to it. They do provide you with a stick of honey to add into your coffee, you can also get sugar packets to add in. Once I added honey and sugar in it made the cappuccino a little less bitter. Overall I still did drink it all, it just could have been sweeter for my sweet tooth.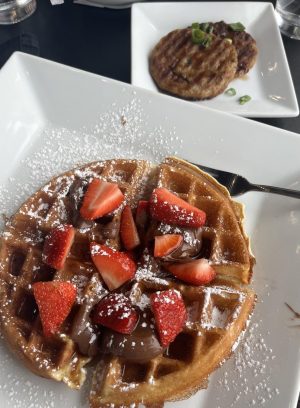 "Create your own Waffle":
Plain waffle with Nutella and strawberries added on top with a side of sausage.
Waffle: 10/10       Sausage: 9/10
I absolutely LOVED the waffles. They had to perfect amount of Nutella and strawberries on top. The waffle was very fluffy and was the most perfect waffles I have ate. I highly recommend trying this perfect combo. The sausage patty had a great flavor, the only thing was it was very greasy. Overall I would definitely get this again.
My overall experience was great. The staff was very friendly, the restaurant was very clean, many options to suit anyone's taste buds and amazing food. If you are looking for a breakfast or brunch place be sure to stop by Waffles INCaffeinated and give it a try!
Their hours Monday-Friday are 8am-2pm and Saturday and Sunday 8am-3pm.