Norwin Students qualify for All State Chorus competition
Two Norwin High School Students, Abrielle Brown (12) and Cameron Behary (10), qualified for the 2023 All State Festival where they will compete in the Chorus Competition. All State Chorus is a competition through PMEA (Pennsylvania Music Educator Association) and is the third level of the competition. The first level was District, then Region, and now State. The students will travel to Kalahari Convention Center in the Poconos to compete on Saturday April 22. 
Brown placed first chair at the 2023 District 1 Festival ( in January) in the Soprano II section, which qualified her to move onto Regions in February. After Regionals, qualifiers had to record another set of videos for chair placements at States and the chairs will be announced Wednesday April 19th when they arrive at Kalahari.
– Some of the pieces we will be singing at States include Lacrimosa by Mozart, Awake the Trumpet's Lofty Sound by Handel, and Witness by Stacey Gibbs (which Mrs. Scheirer actually performed when she went to All-States in high school)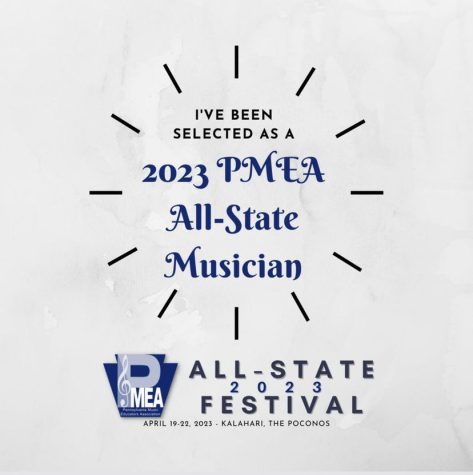 As the competition goes on, the competing groups narrow every round. Behary and Brown were only one out of six people in their group to be chosen to move on from Regions into All State; showing the prestige of this competition.
During auditions, Behary and Brown had to demonstrate their skill of performing. 
"We had in-person auditions this year, which was new because last year auditions were done online," said Brown. "We were given a list of music to memorize, and when it was time to audition they took our music sheets and assigned us two pieces of music at random." 
"
I'm really into theatre, so all sorts of classical music inspires me when I sing. "
— Abrielle Brown
Both Behary and Brown have a passion for music and singing. 
"I first started singing in church," said Behary. "I really enjoyed singing all the gospel songs." 
For more information on PMEA visit their website: https://www.pmea.net/pmeaall-stateinformation/