Indoor track team caps off season
Three Knights represented Norwin at the PTFCA Indoor Track in Field Championship on Feb. 26.
On Sunday, Feb. 26, three Norwin athletes — Hannah Shaw, Ashley Laukus, and Brandi Brozeski — competed at the PTFCA Indoor Track and Field Championships in Hershey, PA to cap off the Knights' winter season.
Laukus, a senior committed to Shippensburg University, took home a silver medal in the high jump, clearing a height of 5 feet, 4 inches, a personal best. She was the first Knight in several years to medal at the indoor state meet — due to a lack of classifications in indoor track, the PTFCA Indoor Championship remains the hardest meet to achieve a medal in.
"There were a lot of good athletes there, so I really wanted to set a PR, but it was also good to get a silver medal," Laukus said.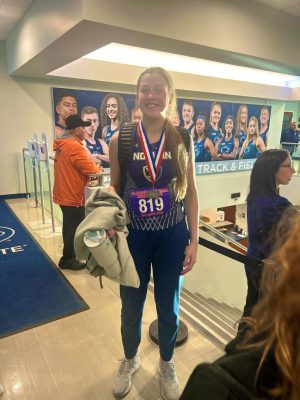 Last outdoor season, Laukus placed eighth in the high jump at the PIAA Championships in May; this year, she's hoping to go even higher.
"I want to jump higher than 5'4"," Laukus said. "Hopefully, I'll be getting 5'5" or 5'6"."
Joining Laukus in the high jump was Brozeski, a sophomore, who finished 19th with a height of 4 feet, 11 inches.
Meanwhile, Shaw, a senior committed to Northeastern University, finished 14th in the pole vault with a height of 11 feet. Although it wasn't her best day (her best vault is 12 feet), her overall season was impressive; she secured top-five finishes in seven meets and set the indoor school record (12 feet, 0 inches) on Feb. 18.
"I think my indoor season was very successful," Shaw said. "I may not have done as well as I had hoped at states, but I already have a PR under my belt and feel well prepared for spring season."
Shaw also competed at the New Balance Indoor Nationals on March 11, taking home 6th place in the Rising Stars Division with a vault of 11 feet, 5.75 inches.
"It was a really great experience that I am thankful that I was able to be a part of," Shaw said. "Not only to qualify for the event but also be able to medal."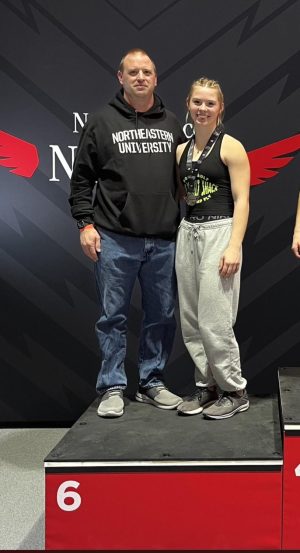 Overall, the Knights had a fruitful season, with many athletes producing impressive marks. On Feb. 18, four individuals and six relay teams earned medals at the TSTCA Indoor Championships in Edinboro, PA. On the boys' side, these included Trey Huha (6th in 200 meter dash; 7th in long jump), Isaiah Kline (3rd in high jump), the 4×200 meter relay team (5th place), and the 4×800 meter relay team (7th place).
Girls' medalists included Laukus (5th in high jump), Brozeski (7th in triple jump), and all four relay teams — 4×200 meters (8th place), 4×400 meters (7th place), 4×800 meters (3rd place), and the distance medley relay team (3rd place).
"I feel that our athletes really rose to the competition and got to see a lot of their hard work paying off," head coach Timothy Van Horn said. "Many athletes hit all-time PRs and are looking ready to roll with our outdoor season."
Now, the Knights will shift their focus towards the spring — they have only three weeks until their first meet, a home contest on March 28 against Penn Trafford.
"I believe this indoor season has really helped prepare a lot of our athletes for what is to come," Van Horn said. "Many athletes are coming off the indoor season with some of their fastest times/best distances/heights.  We hope to take that momentum into our section competitions."
Among other goals, the boys' and girls' teams are hoping to repeat as section champions and return back to the WPIAL Team Finals.
"We understand that none of these feats will be easy and that we must work our hardest every day, but our guys and girls are ready for the challenge," Van Horn said.