Norwin Girls Lacrosse secures a seat in the playoffs
The Norwin Girls Lacrosse team scoops up the remaining spot to go to the 3A WPIAL playoffs. 
Despite a rather unassuming conference record of 3-4 and an overall record of 4-11, Norwin Girls Lacrosse earns a spot with five other Section 1 teams for the playoffs. 
Starting at the beginning of the season, the team sat down and formed a series of team and individual goals they wished to accomplish by the end of the season. At this point, with the season coming to an end, they have achieved two of the three. 
The team's first goal, like most teams, was to make it to the playoffs. The Lady Knights had accomplished better records than three teams in the section, giving them the ranking of sixth, which was just enough to earn them a spot. The team had gotten there after satisfying wins against Hempfield, Bethel Park, and Baldwin.
Hempfield was the first of the three on March 29. The home game ended in a score of 17-3, the most favorable goal differential the team saw all season. 
Bethel Park was a few days after, on April 5. It was a close game, ending in a nail biting 13-12. Going back and forth all game, the Knights were able to hold out until the end. Looking back, this game was the most significant factor in securing the Knights' ticket to the playoffs.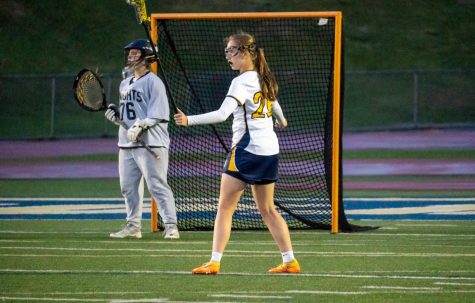 Most recently, on April 12, Norwin faced off against Baldwin. Like Hempfield, this match was a rather less intense one, as the Knights walked out with a 19-7 win. 
Other than these select games, the team has experienced a rather disappointing set of losses week after week. Despite having a rather hard section, facing a lot of well established teams with popular youth programs and large pools of potential players, the team was able to compete with a good portion of the best teams in the section. Games against teams such as Swickley Academy, North Hills, and Peters Township had a lot of back and forth. With Norwin starting off strong and getting a few points on the board, before the opposing team fought back, causing the Knights to lose steam and fall behind. 
This brings forth the goal that the Norwin Girls Lacrosse team has been unable to check off of their to-do list for this season: to win close games.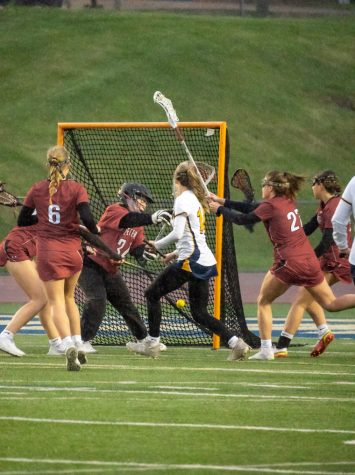 Head Coach Courtney Kloos attributes this to the team's inconsistent intensity. 
"I think that we sometimes lack intensity," Kloos said. "That's our weakness. Though we have a lot of heart, either we lack intensity or we have intensity but we can't keep it going throughout the duration of the game."
This inability to follow through to the end of the game is evident in the team's scores. A lot of the team's losses consist of games in which they were no more than four goals down by the end of the second half. The rest of them consist of other winnable games that resulted in a score being run up after a series of back and forth. 
Despite the consistent losses, the team has not backed down and, if anything, has only trained harder for the remaining games this season. 
The focus of practices have been on effort-based concepts over skill-based concepts. The Knights have been working at competing for ground balls, marking up and putting hard pressure in the transition between offense and defense, and providing help through a defensive double.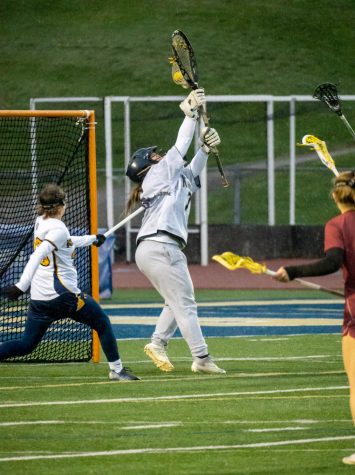 The team's tenacity can be attributed to the strong bond the Knights have not only with the game, but also with each other. 
"The team has good energy and has made lacrosse truly enjoyable for me," captain and defensive player Ray Mamas (11) said. "The atmosphere of the team created an amazing place where the team could forget about their worries for some time and enjoy being surrounded by friends and teammates. We definitely have had our downs this season, but no matter what, we were back the next day laughing and truly enjoying the sport. The coaches always told us that it's not all about winning, it is about having fun—and our team knew how to have fun."
The improvements that they have made this year are also important to note, rather than just looking at their record. 
"
Overall, I think we did well despite our record. We worked really hard and played very well against tough teams. We are a relatively new team that has many new players, so it's hard to play against teams who have been together since youth lacrosse.
— Captain Sophia Alvarez
"Overall, I feel like we had a pretty good season," captain and defensive player Aubrey Stoken (12) said. "I know our record doesn't show it and there were a lot of games that we had a good potential of winning but unfortunately things didn't work out in our favor. We have a lot of amazing talent this year, probably some of the best we have seen in a while, and I am proud of the work and effort everyone is putting into each and every practice and game. We went from having a team full of inexperienced players last year, to a team of 'seasoned veterans' this year who aren't afraid to take chances and make plays. It's really awesome to see the progress we have made in such a short amount of time. I'm truly proud of all of my teammates and the efforts they have put into their growth."
Going into their last non section games and the first round of WPIAL playoffs, the team is determined to show everyone what Norwin Girls Lacrosse is all about. They never stop working hard or thinking ahead. Some of the underclassmen are already thinking of things they will need to improve upon to do even better come next season. 
"For next year, I want the team to improve on our chemistry on the field now that our chemistry off the field is good," midfield player Ava Kessler (11) said. "We could improve on ground balls and coming up with the ball in the midfield."
"
I would tell my underclassmen teammates to treasure the time they have together, this team is such a family and you can meet lifelong friendships, so hold on to that. Also, continue to practice and work hard, and it will pay off.
— Kayla Cessna (12)
For those graduating and spending their remaining days on the field, they are determined to leave their underclassmen teammates with some much needed advice. 
"A piece of advice I would give to my underclassmen would be to have patience and don't worry too much about making mistakes," Stoken said. "Have patience in the sense that if you continue to work hard and try your best, everything will fall into place. It just might take a little time. For me it took until the beginning of my junior year to figure everything out and now I'm varsity captain and a starter. So just have patience and I promise it will all work out in the end. Also, don't be scared to make mistakes and mess up every once in a while. We are all human, we all have bad days, we all have things we struggle with. It's normal to not be the best at everything but if you take chances and try new things, you might surprise yourself and become really good at the things you didn't think you could do."
Though the season was kind to the Lady Knights, their playoff run ended Monday, May 16 in a game against Shady Side Academy (SSA). With SSA being ranked fifth against Norwin's twelfth place ranking, the bulldogs were favored to win. With a final score of 4-13, the team battled til the clock ran out. With one of their cleanest games all season, the team connected passes and came up with the ground balls. It was a spectacular game in particular for goalie Sydney Valenta (9) with multiple rapid-fire saves. If there is one game that ends the Lady Knights' season, this one in particular isn't too bad in the players' eyes.
Leave a Comment
About the Contributor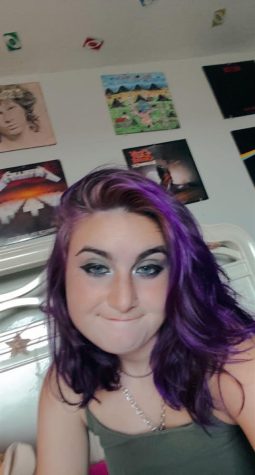 Elizabeth Long, Writer
 Elizabeth is a senior and a second year writer for the Knight Krier. She is the Vice President of the Science Challenge Squad, Treasurer of the Student...