What's up with May testing
 As the conclusion of the school year approaches, so does a variety of important exams.
     Starting May 3rd, Norwin High School students begin taking end-of-the-year exams. The tests vary from AP (Advanced Placement) exams to classroom finals.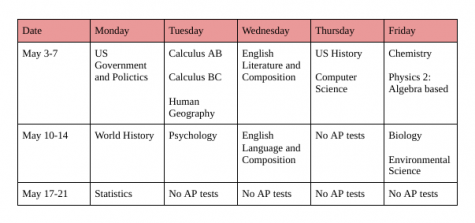 From May 3-17, high school students  who are enrolled in an AP course and plan to take the assessment for college credit have the opportunity to do so(see chart for specific exam dates). Contrary to last year's virtual exam, most exams will be taken in person at the high school. Although this is the prefered testing option for Norwin students the official test sponsor, the College Board, has offered an online version of each exam. If students prefer to take their exam(s) online, they should contact their guidance counselor a week in advance before the planned testing date.  
     "This year, Norwin is hosting 17 different AP exams," said Norwin AP Coordinator Ms. Marazza. "Due to the pandemic, there are 4 administrations(dates for testing). In case Norwin were to shut down or students would not be able to test on the first scheduled exam date for some reason, they will have the opportunity to do so during the second administration."
     Although students will be given the opportunity to take their AP exams at a later date in case of a shut down, the exams will not be in person.
     "With the exception of math and science exams, all tests in the second administration will be digital," said Marazza.
     Despite the different current COVID-19 circumstances, Marazza is confident in Norwin AP students.
     "I'm thinking very positively that everyone will be okay so we can do all tests within the first administration. We have wonderful teachers, so I know that students are prepared as well."
     Following the two weeks of AP exams starting on May 17, classroom finals will take place through the 24th. These exams are a regular annual occurrence, and will be held during normal classroom time. Each test will vary off of teacher preference. 
     To finish the year off, students predominantly in grades 9-10 will have Keystone exams. They will be h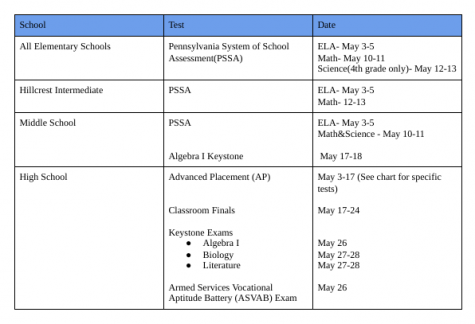 eld at the high school from May 26-28. The three Keystone exams, which are necessary for graduation, are Algebra 1, Biology, and Literature.
     On May 26, students enrolled in the JROTC program and any student interested in the military have the opportunity to take the Armed Services Vocational Aptitude Battery (ASVAB) exam. This exam gives students the opportunity to test their strengths and capabilities. This exam is used to predict future academic and occupational skills if they choose to enlist in the military. 
   In addition to high school exams, students at the Middle School, Hillcrest Intermediate, and all elementary schools will be testing as well. Students in grades 3-8 will be taking the PSSAs. A select group of students at the Middle School will be taking the Algebra 1 Keystone as well. See the chart for specific testing dates.
Leave a Comment
About the Contributor
Maleah Phetsomphou, Writer
Maleah Phetsomphou is a senior at Norwin High School. This is her third year writing for the Knight Krier Newspaper. She is co-host of "The To-Knight...