Harry styles his way into Pittsburgh
Tears, shouts, and cries flowed throughout the PPG Paints Arena as fans anticipated pop sensation Harry Styles to appear on the stage.
     Styles, who is currently on the US leg of his tour, Love on Tour made a stop in Pittsburgh on Oct. 14. 
     In order to attend the concert, all guests were required to either show their vaccination card or present a negative Covid test upon arrival. Per Styles request, fans were also asked to wear masks as well. 
        Pre Styles' performance, indie singer-songwriter Jenny Lewis staged a collection of her songs for nearly an hour. She sang nine songs; three of the most popular were "Red Bull & Henessy", "Just One of the Guys", and "Do Si Do". 
     "I believe Jenny Lewis did a nice job of getting the crowd pumped up for Harry," said attendee senior Vivian Mamas.
     After Lewis was done performing, fans were filled with excitement, patiently waiting for Styles's arrival. Cheers of "Harry" echoed in the arena and the wave went around the audience multiple times.           
     At 9 PM, the arena went dark and the Grammy winner made his grand entrance. "Golden," a single off his 2019 album, and "Fine Line" were the first two songs he performed. 
     Styles who is known for taste in fashion is often seen wearing extravagant outfits. This time, Styles wore a loose, open, long-sleeved sequin shirt with black dress pants. He accessorized with chunky, silver rings."Harries," as the fan base is called, dressed for the occasion, wearing boas, leather, bright colors, patterns, and even some dressed up as fruit. Fans in banana suits could be spotted amongst the crowd.
     Styles followed "Golden" by performing "Carolina," a song of his 2017 self-titled album. Other hits performed include: "Adore You," "Only Angel," "Cherry," and more.
     On top of Styles' appearance, celebrity Olivia Wilde was spotted. Wilde, who is known for being in multiple movies such as "Booksmart" and "Her", was spotted in the audience of PPG Paints Arena. Wilde and Styles have reportedly been dating since early this year. 
     "I had a perfect view of Olivia Wilde," said senior Raveena Navalgund. "It was awesome seeing Harry, but looking down and seeing another celebrity was super cool." 
     Throughout the roughly 90 minute performance, Styles' questioned fans on their knowledge of Pittsburgh. He commented on Pittsburgh's nickname, the "City of Bridges" and was amazed to share that there are 446 bridges total, making it more than the amount in Venice, Italy. 
     In addition, he took brief breaks from songs to interact with fans. Styles had the crowd celebrate an audience member who had been cancer free for two days. He also sang "Happy Birthday" to another.
     "I loved how interactive Harry was with the audience," said sophomore attendee Hope Kenney. "He genuinely seemed interested in the city and his fans."
     To close the show, Styles sang "Fine Line." Once the song was done, to ease fans' dissapointment, he returned for an encore performance. "What Makes You Beautiful," the song that skyrocketed Styles and other One Direction members to fame was played along with 2019 hit "Watermelon Sugar" and "Kiwi". 
     Styles left fans speechless. Tears and shocked faces could be seen my those walking out of the arena.
"It was seriously the best night of my life," said Kenney. "Everyone was crying at the end, it was truly incredible." 
Leave a Comment
About the Contributors
Maleah Phetsomphou, Writer
Maleah Phetsomphou is a senior at Norwin High School. This is her third year writing for the Knight Krier Newspaper. She is co-host of "The To-Knight...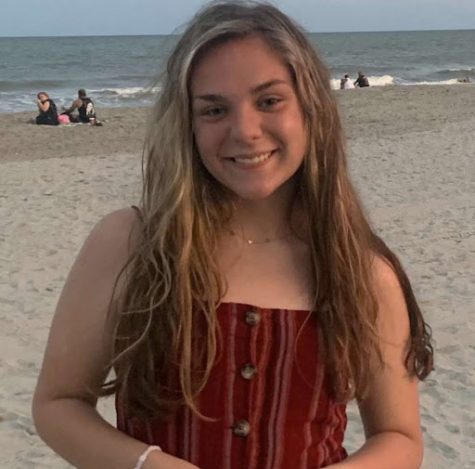 Nicole Tougher, Secretary/ Social Media Coordinator
Nicole Tougher is a senior at Norwin High School and has been a part of the Knight Krier staff for 2 years. One of her favorite memories in newspaper include...