Norwin cross country finishes season at WPIAL Championships
The Knights have been running nonstop since early June, but the action has finally come to an end.
     After five months, 11 meets, and nearly 100 practices, Norwin's cross country season has come to an end.
     On Thursday, Oct. 28, the Knights competed in the WPIAL championship meet at California University of Pennsylvania. The boys finished in 20th place out of 31 teams, while the girls finished 11th out of 29. The venue presented a special challenge for the runners; although it hadn't rained for the past few days, the course was still extraordinarily muddy, and by the time Norwin's boys and girls lined up to start, it had been torn up by several previous races, to the point where footing was a challenge.
     "The course was a mess, but it seems like most districts across the state were dealing with less than ideal conditions," said head coach Brian Fleckenstein. "In terms of the race, it pretty much 'ran' as could be expected."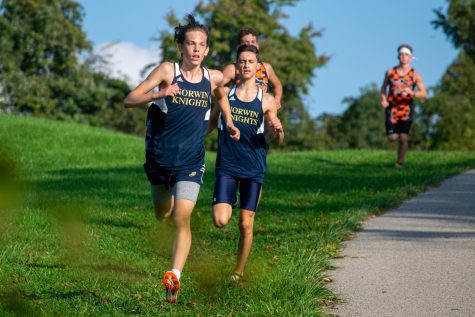 The team's performance at WPIALs capped off a months-long season in which the boys finished with a section record of 5-3, while the girls ended at 7-1. Some of the boys' top runners included sophomores Noah Wilson and David Shepherd, as well as juniors Andy Breauchy, Jack Chaney, and Oliver Hinson. Their season featured a number of twists and turns, and more than a little adversity; from last year, the boys lost their 1st, 2nd, 3rd, and 6th-best runners to graduation, and their remaining varsity players, Breauchy, Wilson, and senior Micah Gaydos, all sustained injuries over the summer.
     Despite their setbacks, though, a number of new runners stepped up to the varsity level, and they were able to improve on their record from last year.
     "I feel like overall, the season was absolutely a success," said Fleckenstein. "In this sport, you really have to look at the data and what metrics you use to measure success. Did we improve this year as the season went on? Absolutely. Did we get faster? Yes. Did our numbers remain the same [compared to pre-COVID]? Yes. Did we put forth our best efforts daily at practice and in meets? Yes."
     One of the bright spots for the boys was Wilson, who improved his personal-best time by over a minute from last season and placed ninth at the Westmoreland County Championships on Oct. 13 with a time of 17 minutes and 27 seconds. As a freshman, he was the team's 7th varsity runner, and even ran some meets at the JV level, but this year, he rewrote all of that, becoming the team's best runner.
     "Personally, I am really impressed with how I ended the year," said Wilson. "I started off rough, coming straight off an injury, but I think I finished strong."
     Still, the season's biggest storyline wasn't anything that took place during a race. According to the athletes, what truly made this team stand out was something that had nothing to do with competition at all.
     "I think the friendships in this team were very special,"said Shepherd. "Everyone was connected, including our freshmen and seniors, which is always an amazing thing to have."
     The girls faced an entirely different season than the boys. With a primarily returning sophomore and junior varsity roster, the girls were able to maintain their momentum from last year's season.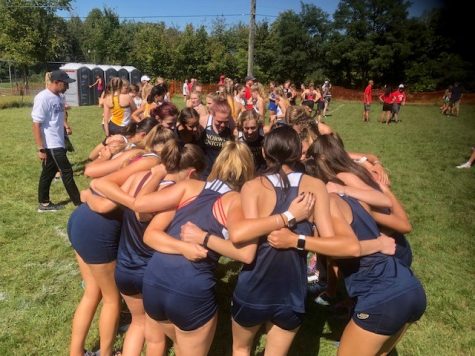 After wrapping up a 7-1 section record for the season, the girls also placed sophomore Audra Fedor for tenth and junior Anna DeFazio for fifteenth at the Westmoreland County Championships.
     "We handled the last race of the season well," sophomore Rosemary Gaydos said. "A lot of the girls gave their best effort for the team and especially for the seniors. Our team did really well throughout the whole season. Being runner up section champs and bonding together as a team was definitely some great achievements of our team."
     Despite a really strong season, the WPIAL championship meet proved to be challenging due conditions.
     "We were very lucky in terms of weather, but certain parts of the course were not intact," DeFazio said. "Obviously this is not ideal when running for a time, but it is part of the sport, and it is the same for everyone."
     Through a lengthy season of highs and lows, the girls team, and the entirety of the cross country team, has maintained a strong sense of community and understanding towards one another throughout it all.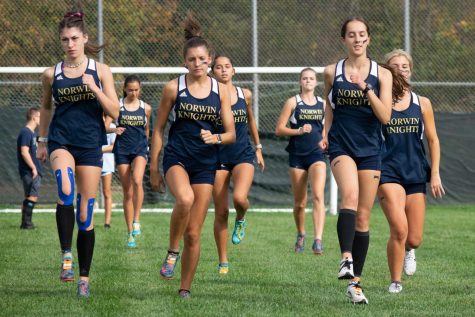 "Running cross country with this amazing group of kids is the best opportunity I've ever been given," Fedor said. "They fuel me to be the best version of myself, and they have given me memories that will last a lifetime. Even though there are many highs and lows to running this sport, I wouldn't trade my experience this season for anything."
     With every meet and every practice in the books for the Knights, the focus is on the future. In only a few weeks, the boys and girls will start winter training, and before too long, it'll be time for track and field, where Norwin will look to defend their undefeated section record from last year. By the time the 2022 cross country season rolls around, the team will hope to be in even better shape than they were this year, no matter how much training it takes.
     "In the words of Mike Tomlin, 'the standard is the standard,'" said Fleckenstein. "We try to be successful year in and year out regardless of who is returning. We hope to have depth in the program that allows that to happen. In my 10 years as head cross country coach, the boys team is 61-12 in section meets and the girls are 63-10. We like to keep that tradition alive."
Leave a Comment
About the Contributors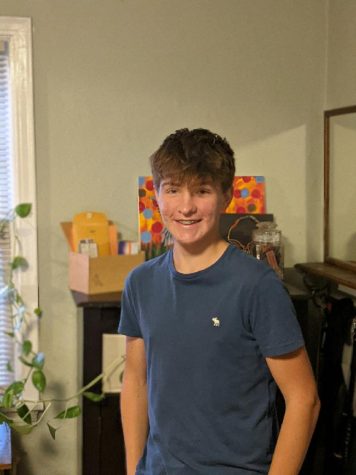 Oliver Hinson, President/ Website Manager
Oliver is a senior, and he has been a part of the newspaper staff for 3 years. He covers a wide range of topics, from school news to student features,...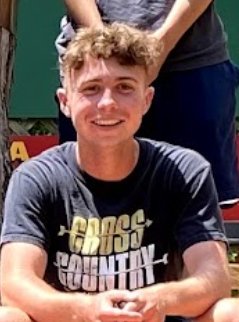 Max Christopher, Writer
Max is a second year writer for the Knight Krier.  He is a senior at Norwin High School who, in addition to the school newspaper, is involved in cross...