Christmas Movie Review

by Knight Krier staff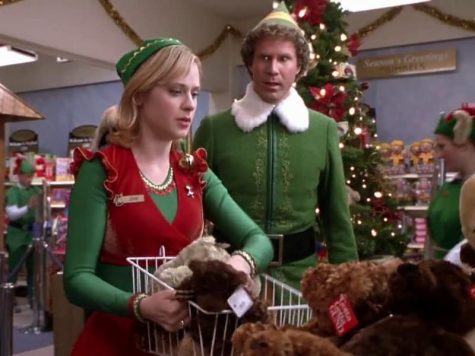 Elf
By Max Christopher
Before Iron Man and The Mandalorian, Jon Favreau made his mainstream debut with Elf. Arguably the greatest Christmas movie of all time, Elf follows 6′ 3″ Buddy the Elf, played by comedy legend Will Ferrell, as he learns that not only is he not an elf, but that his biological father is on the Naughty List. Buddy embarks on a journey to New York City to connect with his long lost dad, Walter, played by James Caan, while also falling in love with Zooey Deschanel's Jovie. Between a cameo from Peter Bilingsley of A Christmas Story fame, on top of intermixed stop-motion animation with the traditional live action, and a star-studded cast featuring the likes of Bob Newhart and Peter Dinklage, Elf comes out swinging as one of the most Christmas-y Christmas movies.
Home Alone 2
By Oliver Hinson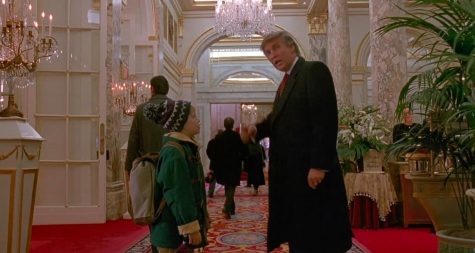 Kevin McCallister has done it again. After being left home alone for Christmas vacation by his parents just two years before, you'd think the 10-year old, played by the legendary McCaulay Culkin, would have learned his lesson. Nevertheless, when the McCallister family takes off for their holiday trip in 1992, it takes them an entire flight to realize that they've repeated their mistake, and by that time, young Kevin is all by himself in New York City. He must navigate the challenges of the Big Apple while simultaneously being hunted by the Sticky Bandits, who reprise their role from the original after escaping prison. There's a whole lot of running and fooling around in this holiday classic, which many (including me) consider to be the best Christmas movie of all time. Personally, I think there's nothing better than curling up with a blanket on the couch and repeating the lines I memorized in childhood. That's what Christmas is for, after all. We take comfort in the traditions that we repeat over and over again, for they give us something to look forward to that we know will never disappoint.
Home Alone 3
By Maleah Phetsomphou
Home Alone 3, the last film of the six movie series to be released in theaters, takes place in a calm, suburban Chicago neighborhood. However, it's shaken up when a quartet of criminals known as Beapru's Gang break into houses hunting for a computer chip located a toy car. Alex Pruitt, an 8 year-old boy stuck at home with smallpox , replaces Home Alone and Home Alone 2: Lost in New York Kevin McCallister in this film as the child forgotten by his family. In addition to defending himself, Pruitt must also protect his neighbors such as elderly Mrs. Hess. With Pruitt's pet rat, Doris, and his brother's parrot on his side, Pruitt protects his house. This movie is similar to its predecessors in the fact that it consists of devious booby traps such as a spring loaded boxing glove, loose wooden planks, fake trampoline, and swinging flower pots. However, Pruitt faces twice as many intruders as McCallister who highly skilled, internationally wanted convicts. Home Alone 3 sticks to comedic plot of burglars being defeated by a young boy, yet it deals with far more complex criminals who have even more devious agendas. 
The Year Without A Santa Claus
By Julie Chenot 
In 1974's The Year Without A Santa Claus, Santa comes down with a nasty cold, and begins to second guess his importance in the world as more and more people cease to believe in Santa.  When he decides not to go on his annual Christmas run, two elves named Jingle and Jangle search the world to find people who still believe in the power of the Christmas Spirit to help convince Santa to change his mind.  Along the way, they meet many interesting characters, including Heat Miser, Snow Miser, and Mother Nature.  This film is a classic Rankin/Bass stop motion, similar to movies like Rudolph The Red-Nosed Reindeer, Santa Claus is Coming To Town, and The Little Drummer Boy.  This film has catchy musical numbers, including the TikTok viral "Heat Miser vs. Snow Miser," entertaining jokes, and a heartwarming story, all of which make for an amazing family friendly Christmas Movie that people of all ages can enjoy.  
The Polar Express
By Mackenzie Shrum
"I believe, I believe, I believe" that the Polar Express is the most timeless Christmas movie of all time and shares the true magic of Christmas on the train ride of a lifetime. The Polar Express is a spectacular ride that explores the concept of seeing isn't believing, real magic lives in our hearts. The Polar Express starts off by centering on a boy (yes, he has no name) who is starting to not believe in Santa Claus that is awakened on Christmas Eve night to the roar of loud whistles and motion from a train outside his house. The boy meets two friends as they ride to the North Pole to see Santa Claus before he sets off on his long night of delivering gifts. The boy receives the first gift of Christmas being the bell off of Santa's sleigh, finally hearing the sound and believing in Santa Claus. The Polar Express has an array of voice talents with big names like Tom Hanks, Tom Hanks, Tom Hanks, and Tom Hanks. But yes, Tom Hanks plays five characters in the movie and it works very well to the overall narrative of the movie. The Polar Express is the perfect Christmas movie and depicts the message we all need to keep in our hearts which is "Seeing is believing, but, sometimes, the most real things in the world are the things we can't see."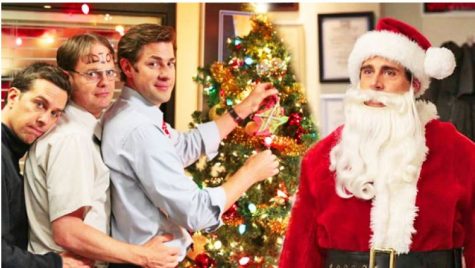 "The Office" Christmas Party Episodes
By Mr. Brian Fleckenstein
One of the best ways to pass the days or weeks before Christmas is by re-watching The Office Christmas episodes.  Most seasons had ONE Christmas special office party at Dunder Mifflin. And nothing says Christmas like a Scranton office party. My favorite episode hands-down is "A Benihana Christmas" (Season 3, 2006).  In this episode the interaction in the restaurant between Jim and Dwight, the pathetic attempts by Michael to find love, and the ridiculousness of Andy Bernard are on full display.  However, in some capacity each episode highlights the flawed, yet endearing characters that we have grown to love.  Whether it's Angela's cold hearted party planning, Phyllis' Santa portrayal, Andy Bernard's office bravado, Kevin's one liners, Stanley's stares, or Jim and Pam's cuteness, Dwight's authentic yet terrifying antics, or Michael's sorry attempts to spread Christmas cheer, The Office Christmas specials truly represent the unrealistic hopes of the holidays colliding with its tragically flawed characters, oftentimes a little too close to home. 
Ranking of Episodes: https://www.vulture.com/article/best-office-christmas-episodes.html
It's A Wonderful Life 
By Nicole Tougher 
The 1947 film, It's  A Wonderful Life is the perfect film to watch and reflect on the true meaning of Christmas and life. The film stars the late Jimmy Stewart, an Academy Award winning actor and Indiana, PA native. The film follows his character, George Bailey who is facing a number of challenges and is considering ending his life. Before he can do anything, the film shows George's life and all the good he has done for his town. By fate, George meets a man named Clarence who shows him what his town would've been like if he was never born. Everything good George had done had vanished and the lives he once touched never knew of him. The film truly is a holiday classic and a rather great one with a 94% on Rotten Tomatoes. It has been loved now for generations and will continue to be loved for generations to come.
A Christmas Story
By Madison Samber
      The film A Christmas Story came out in 1983, but the setting is Christmas in the 1940s. It's about a little boy named Ralphie Parker, played by Peter Billingsley, who wants a Red Ryder BB Gun for Christmas, and tries to convince anyone who will listen, why he should get one. Ralphie is like any kid who deals with a bully, fights with his parents, and has an annoying little brother. He is always getting in trouble, like when he leaves his friend in the playground when his tongue got stuck to a frozen pole, or when he swore in front of his dad for the first time. This movie is humorous and relatable. There is always drama with the characters, like when Ralphie's mom broke her husband's new prized leg lamp. It's good to watch alone or with your family. My family loves this movie so much we've visited the house it was filmed in. This is my favorite movie and we watch it every year in my house.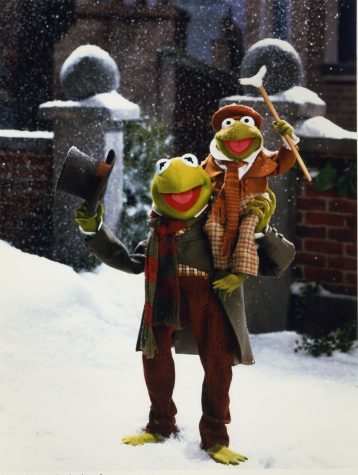 The Muppet Christmas Carol
By Elizabeth Long
  The best movie rendition of Charles Dickens's A Christmas Carol is by far The Muppet Christmas Carol. Featuring Michael Caine as Ebenezer Scrooge, the film follows the story of a gloomy miser who hates Christmas. He is visited by the ghosts of Christmas Past, Christmas Present, and Christmas Yet to Come in hopes that he will change his ways. Instead of live actors, the movie uses various Muppets to stand in for characters like Bob Cratchit (Kermit), Tiny Tim Cratchit (Robin the Frog), and even the ghosts of the Marley brothers (Waldorf & Statler). The appearances of the Muppets revitalizes the story of Dickens's 1843 novel. The personalities of the Muppets are reflected in their characters. The musical aspect of Kermit and his group is also present in the film through a soundtrack of songs like "Marley and Marley" and "Scrooge". The narration from Gonzo and Rizzo the Rat maintains the audience's attention between scenes. The dynamic between the Muppets and the human actors makes this classic Christmas story about generosity and kindness more entertaining for kids and adults alike. 
How the Grinch Stole Christmas
By Alyssa Laukus
How the Grinch Stole Christmas is a classic Christmas tale. The Grinch, who is played by Jim Carrey, lives on the outskirts of Whoville and resents the Christmas season. The Grinch with the help of his dog, Max, swoops into Whoville on Christmas Eve in an attempt to ruin Christmas for all of the Whos of Whoville. He steals all of their Christmas presents, decorations, and their Christmas feast. The Whos are disappointed but do not let the lack of material items ruin their Christmas. The Grinch realizes what he is missing living in a mountain on the outskirts of Whoville and his heart grows, prompting him to return the Christmas items he took and join the Who's for Christmas. This is a classic holiday comedy and is one of my favorite holiday movies.
Rudolph The Red-Nosed Reindeer: The Movie
By Maria Janiga
The Movie, is a classic holiday film to watch with family and friends. The movie was made in 1998 and produced by Goodtimes Entertainment. Throughout the movie we see Rudolph grow up and face troubles not only with the evil ice queen; Stormella, but within all of the town. We see Rudolph fall in love with Zoe, a young doe who gets trapped in Stormella's ice castle while she's looking for Rudolph. At the end of the film it's revealed that Rudolph gets to lead Santa's sleigh all along due to a horrible winter storm that Stormella has cast onto the North Pole that only his shiny red nose can lead the team through.
The Santa Clause
By Ashley Cramer
The 1994 movie, The Santa Clause, Tim Allen's character Scott Allen is trying to adjust to life as his first Christmas as a divorced father. When his ex-wife drops off his son Charlie he finds out that Charlie's stepfather had told him that Santa is not real. After a lackluster Christmas Eve, Charlie is woken up by footsteps on the roof and when Scott goes outside to check it out, he finds a man dressed as Santa climbing into his chimney. He then scares the man off his roof and when Santa falls onto the ground he disappears and leaves his suit behind. Having killed Santa, Charlie forces Scott to put on the suit which then completes the Santa Clause leaving Scott to be the new Santa. The rest of the movie follows Scotts transition to Santa and how he mends his relationship with his son and wins the favor of his ex-wife and her new husband. This heartwarming non-traditional Christmas movie dives into the topics of estrangement between father and son and the idea of whether or not Santa is real. This movie is the perfect Christmas tale that shows that you can't always take the easy way out of life. 
It's a SpongeBob Christmas
By Joe Fitzgerald
The movie It's a SpongeBob Christmas" is very underrated and not talked about enough when it comes to the top holiday favorites among movies. When Plankton has a wish of making the town grumpy and mean just like him,  he finds a serum that turns everyone unpleasant called jerktonium. He spreads it and gives it to the whole town by putting them in harmless fruitcakes. When they all eat them and turn into jerks it's SpongeBob's job to fix everything. He finds an antidote to the serum that involves singing which fixes everything and reverses the effects of jerktonium. 
View Comments (2)