Girls basketball shoots for a successful season
     The Lady Knights are off to a strong start this season, with a record of 9-4 overall and  6-1 in the section they are ranked 4th in the WPIAL 6A. With 4 returning starters, the Lady Knights have a lot of experience with seniors Brianna Zajicek, Alyssa Laukus and Maggie Race and sophomore Lauren Palangio. The Knights also pull senior Chloe Lukondi into their starting lineup for this season. 
     The Lady Knights have played some tough, competitive games this season. The Lady Knights opened the season as they usually do in a preseason tournament.  This year the Lady Knights traveled to the Washington, D.C. area and opened with 2 wins against out of state competition.
However, WPIAL 6A provides plenty of tough competition for the Lady Knights hoopers. The Lady Knights faced North Allegheny several times throughout the year and an in section rival for Norwin. The first time around, it was a tough loss for the Knights losing by a buzzer beater 3 pointer from the Tigers Pitt commit Jasmine Timmerson. While this was a tough loss, the Lady Knights will be able to face North Allegheny again on Jan. 27, after the Krier sent to the printer. 
     "I think that the biggest competitors for us so far have been North Allegheny and Upper Saint Clair," said sophomore forward Lauren Palangio. "They are always the teams that give us the most competitive games and even though we don't always come out on top I think that those games have been able to help us grow as a team."
    Playing one of the hardest out of section schedules this season has really done a lot to help the Lady Knights improve and get them playoff ready. The tough out of section schedule has taught the Lady Knights a lot about what they excel at and what they are going to have to work on to continue making this season a successful one. 
     "We need to improve our fundamentals," said Coach Brozeski. "I have been pleased to see growth this far, but we still have plenty of room for improvement in areas such as jump stops, passing, catching and decision making."
     The Lady Knights have had a lot of successes this season so far as well. One of the things that the team prides themselves on is their defense. They have been able to hold teams to an average of 33 points, this number is the lowest in the WPIAL class 6A.
     ""I think this season we have done well defensively," said senior Brianna Zajicek. "We understand how to rotate and get stops to keep teams at low scoring numbers."
"
"I think we have been defending and executing a defensive game plan. I think we have done a nice job matching up with other teams and disrupting the normal offensive flow."
— Coach Brozeski
     The Lady Knights have high hopes that their success will carry them far through the postseason. The last time the girls made it to the WPIAL championship game was in 2016 and this year's team is hoping to change that. 
     "Making the postseason is tough but i think we will make it this year," said Zajicek. "And hopefully we can go the whole way to the championship and win"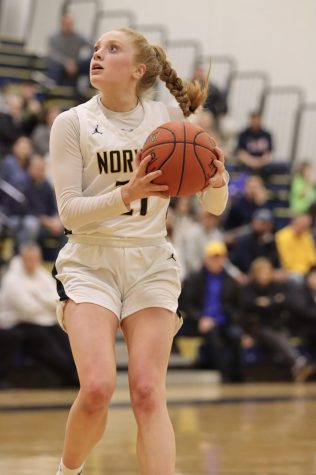 As the season reaches its half way point the Lady Knights will take on their section for a second time. Hoping to come out on top the Lady Knights will have to continue to grow as a team on and off the court. 
     "[My favorite part] is watching a group of individuals come together as one and play for each other," said Brozeski. "I love watching not only the physical skill set develop and grow but also the social and friendship growth as well.
Leave a Comment