Norwin Science Olympiad shines at regionals
Identifying rocks and minerals, building bridges, evaluating the spread of disease and studying night and day—Norwin's Science Olympiad team does it all. 
On March 2, Norwin's Science Olympiad team won bronze at the Southwest Regional Science Olympiad competition at California University of Pennsylvania. 
The Science Olympiad team, organized by physics teacher Mr. Matthew Anticole, is a division of the Science Challenge Squad (SCS). The SCS is the official science club of Norwin High School that consists of the Science Olympiad and Science Bowl teams. The teams participate in various competitions and help promote science throughout the district. 
The Science Olympiad team consists of 15 members who are each assigned 3 or 4 events in which they will participate on the day of the competition. These events differ in subject matter, but are classified as either a knowledge, build or laboratory event. The students prepare by studying their subject matter, building a device or other apparatus or practicing for the day of competition. 
"
My favorite memory from regionals would definitely be cheering almost obnoxiously loud for my fellow teammates when they ranked high in events. "
— Senior Jake Capets
The students are scored on their ability to complete tasks and answer questions correctly. They compete against over a dozen other teams to try and achieve a spot in the top six. Those teams that place in the top six earn a ticket to state's. 
The team did exceptionally well at the Regional Competition, placing third overall. 
"Going into Regionals, I figured that we had fairly good chances of making it to states," Jake Capets, 12, said. "I never would have thought we could get first place in so many events and rank third overall!"
Winning first place in 6 out of 23 events guaranteed the team's third place ranking for the Knights. Finishing with a score of 127 points, Norwin was narrowly defeated by Franklin Regional (2nd) and Mt. Lebanon (1st).  The team dominated in events such as anatomy, astronomy, chemistry lab, experimental design, forensics and rocks and minerals.  
Although the team faced some hiccups along the way, the students persevered and succeeded. 
"I'm sure I wasn't the only person who had a mistake or rough event experience at Regionals," SCS President Victoria Hua, 12, said. "What matters is that as a team we can reflect on what went wrong, and strive to become a new team in the span of a month. We may have the title of third place and several placing medals, but like any other team we have our weak points that limit us. We'll use our mistakes to learn how to improve upon them for states so we can all do the very best we can."
Now that Regionals are over, the team is reflecting on their strengths and weaknesses to prepare for states on April 30 at Penn State Altoona.
"Our team will continue to put time into our preparation and refine our notes and construction events so that we can go into states with the best chance of success," Andrew Brown, 10, said.
Leave a Comment
About the Contributor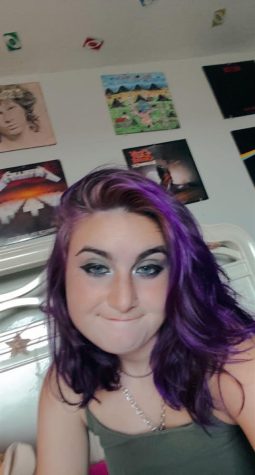 Elizabeth Long, Writer
 Elizabeth is a senior and a second year writer for the Knight Krier. She is the Vice President of the Science Challenge Squad, Treasurer of the Student...