Wrestling comes to a close
Over the past two years with the pandemic, the Norwin Wrestling program hasn't been able to perform to a level and capacity that they are normally accustomed to. This year, however, the guys came back with a vengeance. 
The Norwin High School Wrestling team wraps up another good season with a final record of 17-4. 
"The Section matches weren't anything to brush off," Luke Passarelli (12) said. "We compete as a team. We win and lose as a team."
The Knights did exceptionally well all season, and all the hard work that they put in these past few months truly showed in the end of their season and all of their section matches.
Only losing to teams that would later make it to the state championship, the guys showed a lot of grit all year. 
On Feb. 2, the Knights competed in the WPIAL 3A Team Wrestling Championship beating Franklin Regional 34-33 in the first round and making it to the second round where they lost to Waynesburg Central, who would eventually go on to win their third consecutive WPIAL title. The guys finished 7th in the WPIAL and 23rd in the state. 
Head coach Kyle Martin celebrated the guys' long awaited success in the WPIAL Team Wrestling Championship. 
"We won Norwin's first WPIAL playoff match since 2018 and second WPIAL playoff match in over 20 years," Martin said.
The guys also succeeded in the WPIAL Individual Wrestling Championships as well.  
Gannon Conboy (9), Carson Handra (12), Luke Passarelli (12), Nate Campbell (10), Chase Kranitz (12), and Josh Page (12) all qualified for WPIALs. Passarelli placed 5th and Kranitz placed 3rd at the South West AAA Regional at Canon-McMillan on March 4-5. Being in the top 4, Kranitz earned a spot at states.
After placing 5th at the PIAA Class AAA Wrestling Championships in 2021, Kranitz had high hopes for this year's states.

On March 10-12 Kranitz went to the Giant Center in Hershey, Pennsylvania to compete in states. 
In the preliminary round he beat Gettysburg's Jacob Cherry by technical fall with a score of 15-0.

"
You have to be a team player and you have to be selfish. Wrestling is a very selfish sport once you get to a certain spot in the season."
— Chase Kranitz
Unfortunately, in the first championship round Kranitz faced some unforeseen circumstances which resulted in a loss against Strath Haven's Chase Barlow, being defeated by injury default 11-0.
Kranitz's run at State title was ended in the second consolation round in a 6-0 loss against Neshaminy's Andrew Pokalsky.
"I am nowhere near satisfied or happy with how the end of the season went," Kranitz said. "I am consistently put through adversity and so is any other wrestler with the same goals as me, but I was put through adversity that I did not have control over."
Despite everything he went through, Kranitz is persistent to continue with the sport and improving his skills. 
"Although my season didn't end anywhere where I wanted it to, my wrestling career is not over and I plan on carrying what I've learned in high school to the next and best level at the University of Buffalo," Kranitz said. 
Martin and the returning wrestlers plan on using everything they learned from this season to grow not only their skills but the Norwin wrestling program as well. 
"If you are interested in getting strong, powerful, fast, tough, or want to learn how to throw people on their heads, come check out wrestling!" Martin said. "Starting the week of March 21st, we have workouts Tuesdays and Thursdays from 6:30-8:00pm at the Middle School wrestling room. Come in, workout, meet some other wrestlers, and help us in our mission of being a wrestling powerhouse. At least come in and grab yourself a workout and break a sweat. All are welcome!"
Leave a Comment
About the Contributor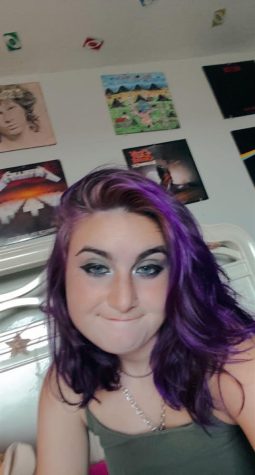 Elizabeth Long, Writer
 Elizabeth is a senior and a second year writer for the Knight Krier. She is the Vice President of the Science Challenge Squad, Treasurer of the Student...