KREATIVE KORNER: Met Gala 2022
The Met Gala- an annual event where the year's most popular celebrities both young and old showcase their eccentric fashion- occurred on May 2. Once inside the actual museum, guests are given time to freely roam around. Eventually, they all sit down and enjoy dinner with a musical performance from another 'high ranking' celeb. Vogue, the company that runs the event, kept and continues to keep a strict "no phone" policy. That is why there are limited photos of was actually goes on inside the museum. Because of this policy, outsiders are left to take only one thing away from the night: the outfits.
Junior Maleah Phetsomphou and senior Nicole Tougher joined together to judge a few of the Met Gala 2022 looks.
Billie Eilish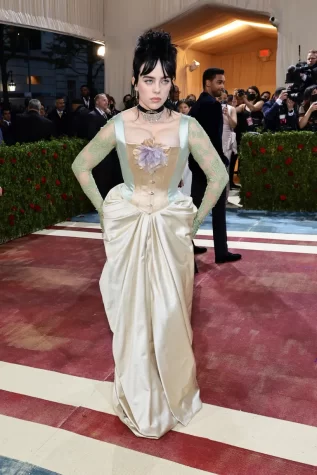 Maleah: I've always Billie's art of staying unique but on trend. This look surely fulfills that. The pale, pastel colored material with that style dress 100% fit the theme.
Nicole: Although not my favorite outfit, it is without a doubt on theme, something most guests failed to achieve. The top of the dress flatters Ellish, however, the bottom just looks like a messed up bedsheet.
Theme: 10/10
Rating: 10/10
---
2. Jasmine Tookes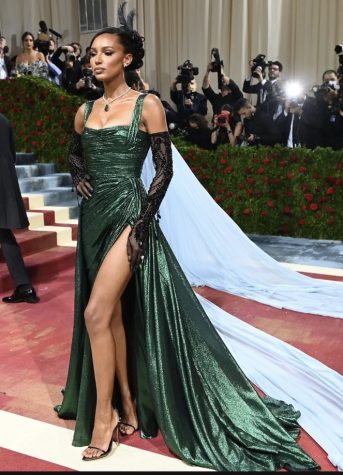 Maleah: This outfit was certainly no mix and match ordeal. Tookes was on point with the emerald dress combining with the decorated black gloves, shoes, and hairpiece.
Nicole: STUNNING. I love this look so much. The gloves, the dress color, the emerald jewel necklace, it's all so flattering and well executed. Tookes truly looks like she belongs at the Met Gala.
Theme: 9/10
Rating: 10/10
---
3. Lizzo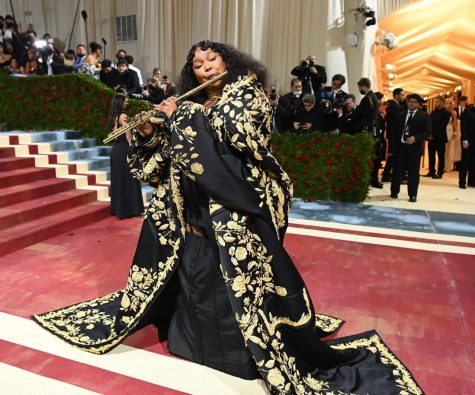 Maleah: This outfit was a lot to take in- but when was Lizzo ever simple? The touches of gold scream wealth and most definitely remind observers of the Gilded Age theme. The cape and flute cap the fit off, leaving viewers in awe.
Nicole: This outfit is so Lizzo. The cape with the gold ties in nicely with the Gilded Glamour theme and the flute was a nice personal touch to this look. I love that Lizzo came to this event and stayed true to herself.
Theme: 8/10
Rating: 8/10
---
4. Hailey Bieber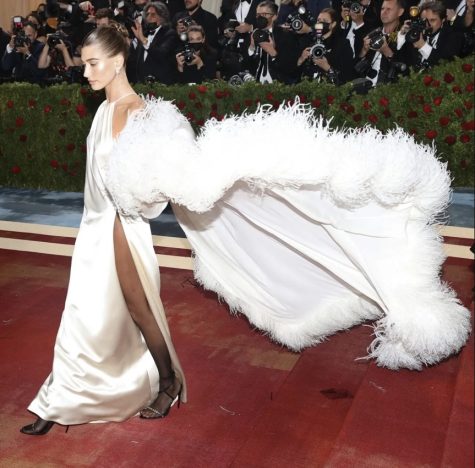 Maleah: I love the white, silky flow of the dress. Although I'm not a huge Hailey Bieber fan, the monochrome and blowing cape add a sense of class to the outfit. There's something about the simplicity of the look. Do I think this fits the theme whatsoever? No.
Nicole: I really do like this outfit, but it would work so much better if the theme was old Hollywood. Although Bieber's dress is simple, the coat adds a level of drama that balances this look out. Even though she is not technically on "theme," this undoubtedly received Anna Wintour's approval immediately.
Theme: 7/10
Rating: 7/10
---
5. Sydney Sweeney
Maleah: This look was certainly different from "Cassie", the character Sweeney plays in hit show "Euphoria". The slight costume change add an effect to it. However, this look it too simple. Where's the gold, the jewels, the sparkles?
Nicole: Sweeney looks very elegant, but I agree with Maleah, too simple for the Met Gala. This look could have been improved with some jewelry. Although she does look beautiful, this wasn't the event for this dress.
Theme: 5/10
Rating: 7/10
---
6. Gwen Stefani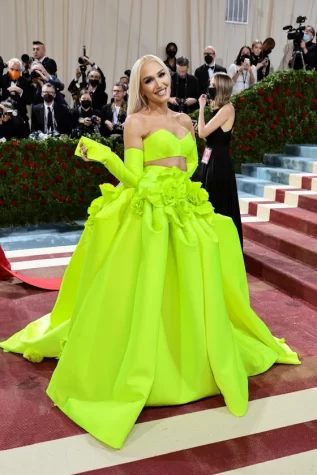 Maleah: I've never been a huge Stefani fan, and this certainly didn't help. The theme was supposed to mirror the Gilded Age; neon most definitely did not exist back then.
Nicole: Horrendous, just horrendous.
Theme: 0/10
Rating: 1/10
---
7. Blake Lively and Ryan Reynolds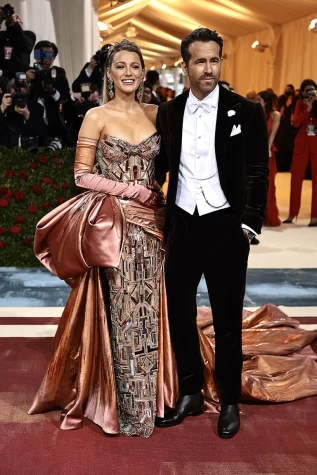 Maleah: The colors, shiny fabric, and gloves make Lively seem like a real-life princess. The intricately, bejeweled dress combined with the tiara and large earrings make anyone stop dead in their tracks. Men's fashion is arguably less creative, but Reynolds surely met this year's theme. The optical chain and tuxedo fit make Reynolds look tolerable and classy.
Nicole: THIS is how you show up to the Met Gala. Lively's outfit was inspired by the Statue of Liberty and was shown in her outfit change when her dress changed from bronze to more green tones. I absolutely love this look and the symbolism behind it. Reynolds looks very classy and dressed for the event as well.
Theme: 10/10
Rating: 10/10
---
8. Sebastian Stan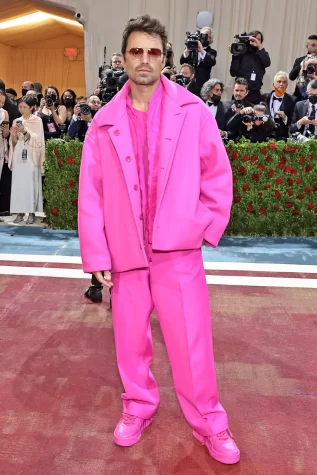 Maleah: I am a huge Sebastian Stan fan, but this look did not do the Winter Soldier any justice. The hot pink violates all fashion from the Gilded Age.
Nicole: Look, I love Sebastian Stan as much as the next person, but this is hideous. This look is more suited for an event like the Billboard Music Awards or MTV VMAs. I cannot fathom how Anna Wintour approved this one.
Rating: 0/10
Theme: 0/10
Leave a Comment
About the Contributors
Maleah Phetsomphou, Writer
Maleah Phetsomphou is a senior at Norwin High School. This is her third year writing for the Knight Krier Newspaper. She is co-host of "The To-Knight...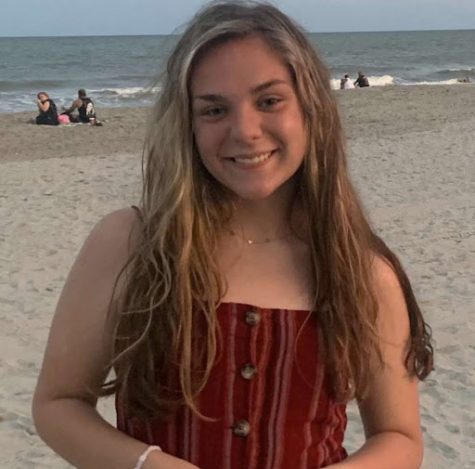 Nicole Tougher, Secretary/ Social Media Coordinator
Nicole Tougher is a senior at Norwin High School and has been a part of the Knight Krier staff for 2 years. One of her favorite memories in newspaper include...