Model UN Conference Dec. 7
Knights bring home awards at the University of Pittsburgh for Model UN conference.
Theo Summers , Intro to Journalism Contributor
December 12, 2022
Imagine what it would be like to be a part of the United Nations (UN) while still being in high school. Debating, thinking, and being the master of topics regarding current events are all available to Norwin High School students in the Model United Nations (MUN) club. These students have mastered solving world problems through debate with a replica of issues discussed in the real UN.
Model UN members and sponsor Mrs. Larissa Sturm traveled to the University of Pittsburgh on Wednesday Dec. 7 to participate in a Model European Union (EU) conference.
"Model United Nations is an organization dedicated to teaching participants about how the actual United Nations functions," said President of Model UN, Maleah Phetsomphou (12). "Participants gather together into committees and work towards finding a solution to an assigned, real-world problem."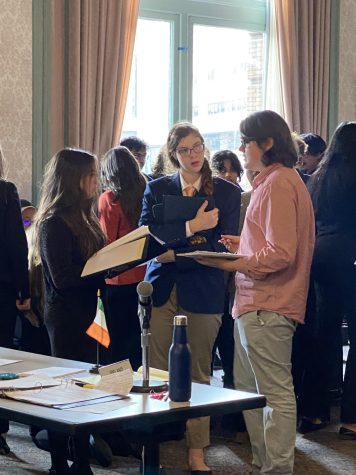 As part of Model UN, students attend conferences with simulations of United Nations meetings. The conference that took place on Dec. 7 was different from other conferences because it was a Model EU, meaning it was only modeling the European Union and its countries. 
"The EU includes a select group of countries in Europe instead of around the globe," said Phetsomphou. "EU also functions with a slightly different procedure than the UN. There are two topics being discussed at this conference: (A)Enhancing Energy and Food Security (B)Enhancing Regional Security in EU Neighborhoods."
Members of Model UN tend to leave the club feeling better at problem-solving with more knowledge of current events. Students, such as Model UN participant Harneet Singh (10), believe that the conference went well for students participating. 
"Overall, I think the conference went well for Norwin, and it was a great experience, especially for people who are newer to MUN," said Singh. "Advice I would give to fellow MUN students is to put yourself out there, and when going into these conferences, make sure to hit the ground running."
"
As president of the club, Model UN affects me in a way I never would have imagined. Model UN has taught me valuable communication skills, especially when trying to convince a crowd. Every participant in Model UN can testify that they've obtained a stronger perspective on the world, public speaking, and debating. "
— MUN President, Maleah Phetsomphou
During this Model EU conference, Rex Wu (11), MUN Vice President, and fellow delegate Sophia Tokay (9) won the Outstanding Delegation award representing Latvia. Sophomore delegates Eliezer Nicolas and Keara Gregg also won the Outstanding Delegation representing Portugal as well as Isabella Ulery (10) and Chloe Verdin (9) representing Ireland. There will be more conferences for MUN held in 2023.
"After having massive success at the University of Virginia [on October 21-23], we plan to attend American University in February," said Phetsomphou. "In between then, we are hosting an in-person conference for practice during January. After American University students will attend conferences at The Ohio State, Duquesne, and Westminster College. We also plan to host another home conference to share the club with other, neighboring high schools."