Norwin swim team ends season on high note
After a 5-5 season for both the boys and girls and two big wins against Penn-Trafford High School for their final meet, the Norwin swim team came out swinging for the AAA swimming postseason coming off a tumultuous season due to continued pool renovations.
The Norwin girls placed 16th out of 24 teams at the WPIAL championship at Trees Pool at the University of Pittsburgh, scoring 42 points. The boys placed 18th out of 24, scoring 18 points.
"It has definitely been a strange year for varsity swimming in regards to not having our pool, but I think everyone has still worked their hardest to prepare for our final high school races for this season," junior Anna Little said.
Little placed 10th in the girls 100 yard breaststroke, swimming a 1:07.27, qualifying for the PIAA championship, and scoring 7 points for Norwin.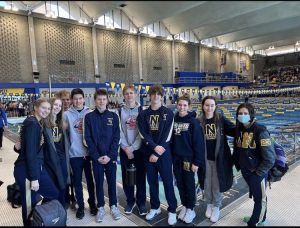 Not only have individuals such as Little found success, but many of the relays as well.
"Our strongest relays for the girls have been our 200 Medley relay and the 400 free relay," Little said. "Our fastest times have been 1:51.99 and 3:47.69 respectively."
The girls 200 yard medley relay placed 9th overall and scored 18 points for Norwin after dropping .45 seconds off of their PR to earn a 1:51.51 time. The relay consisted of Little, senior Joey Testa, and sophomores Chloe Black and Allison Arendas.
"It was an enjoyable meet, but it was sad to see some of our seniors swim their final high school races," Little said. "I will definitely miss a bunch of them next year. Overall, I'm proud of the girls team for coming and trying to make the meet as fun as possible," Little said.
The team's large transition resulted in a change of leadership on the team, as new people had to step up and take charge.
"Nicholas [Cormas] and Mary [Kochis] really stepped up as team leaders this year," senior Austin Hewitt said.
Hewitt was a large contributor to the team in the postseason, helping out in the boys 200 yard freestyle along with juniors Nicholas Cormas and Nathan Kostrobala and sophomore Connor Lydon to hit a time of 1:31.44 and scoring 6 points for Norwin.
Head coach Doug Watson acknowledged the many hardships the swim team has faced over the course of the past two years, and the many adaptations the swimmers have had to make.
"It has been an unusual year," Watson said. "The high school pool wasn't available last year, so we have been busing to East Allegheny every day for practice. We have had to forgo morning practice and adapted our weight training where we can. We had 13 swimmers qualify for the WPIAL championships, which is amazing considering COVID and no pool at the high school. These kids have adapted to a very challenging year."
Watson left his swimmers with some encouraging words, and looks forward to next season as the new pool completes renovations.
"I can't describe how difficult it is to train by getting on a bus everyday to go to practice at a neighboring school," Watson said. "Getting home at 9:00 each night after practice and doing Saturday practice at Greensburg YMCA. We just went where we could get pool time. Every meet was an away meet. Nothing was normal. Yet, this group made the best of a difficult year. They are tough."
Although the Norwin swim team didn't send any individuals or relays to the PIAA championship, their hard work and dedication to their sport, despite many setbacks over the past year, has proven to be fruitful in the team's success at WPIAL championships.
To see swimming and diving results from the WPIAL championship, click here.
Leave a Comment
About the Contributor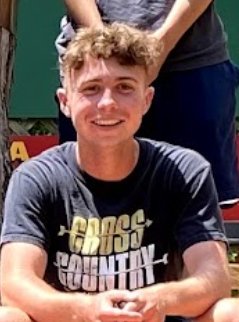 Max Christopher, Writer
Max is a second year writer for the Knight Krier.  He is a senior at Norwin High School who, in addition to the school newspaper, is involved in cross...