Just keep swimming
     On Thursday, Jan. 13, the Norwin Swim Team competed against Hempfield at their last "home meet" ever… at the East Allegheny High School pool.
     The swim team, 2-3 on both sides, has had the difficult transition of moving home locations to East Allegheny while Norwin's pool remains under construction.
     "The transition has been difficult, but our team has kept their heads up and we have been able to come together this year more than ever, despite the challenges," senior Manya Olshanski said. "Although, having to drive to and from East Allegheny gets pretty tiring at times."
     Many team members have remained open about how difficult of a challenge this season has been, even compared to last year.
     "It's been difficult trying to keep morale high," senior Austin Hewitt said. "It's understandable. This has been a difficult season. Not only are we dealing with COVID and all the uncertainties that follow. We also have to deal with taking a bus to practice every day."
     Assistant coach Laurie Federovich commented that the coaches have had to make as many adjustments as the athletes.
     "We were unable to have an 'off season', unable to have morning practices, our weight room training suffered tremendously, and our holiday break practices were definitely cut short," Federovich said. "Although these situations weren't ideal, the coaching staff was able to adjust the practices and meet the needs of each individual."
     Federovich continued by expressing that the entire time made the best of a less than ideal situation.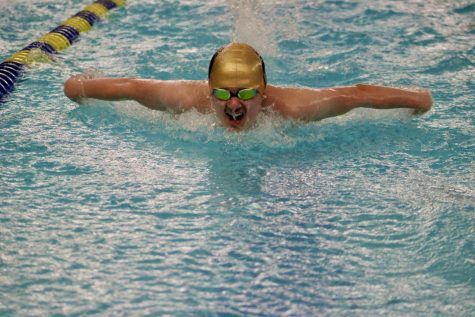 "It's not an ideal situation by not having our facility available," Federovich said. "The swimmers have practice at East Allegheny High School from 6-8pm. We were only able to have one 'home meet' hosted at EAHS as that meet served as our senior night. The athletes have made the best of this situation. In the beginning, it was a bit rough. The seniors especially have been affected by not having the pool they have competed in all of their swimming career. However, the transition was made and they were able to make the best of the situation they were given. I think it's fair to say that with any student athlete, having a change in your facility, practice times, and workouts can play havoc on your mental state. Overall, my motto for this season is when life gives you a lemon, you've got to learn how to make lemonade."
     On Thursday, Jan. 13, the Knights final home meet was a loss for both the girls and boys sides of the team, with the boys falling 123-47 and the girls having a hard fought battle of 83.5-82.5 for their Senior Night.
     "At our dual meet against Hempfield, the girls team was able to come together in a way that I have never seen," Olshanski said. "All of our girls wore tech suits and the girls were cheering louder than I have ever heard. It was senior night too, so that made it even more special."
     Despite not being held at the home pool, many seniors were ecstatic about their final home meet.
     "I was actually pretty excited," Hewitt said. "I was assigned events that I enjoyed and swam good times. It was also nice knowing that no matter what happened, we'd still go and get pizza after. The only part that was kinda weird was our walk on the pool deck. Traditionally, the seniors hug everyone, but for obvious reasons we weren't allowed to do that this year so we just did high fives or handshakes."
      The previous year has taught the swimming team to adapt to new situations, and this year is no exception.
     "The pandemic has really taught me to adapt to new and sometimes weird settings faster," junior Anna Little said. "The main issues with not being in our own pool are the further driving times (less time for homework), the later time, and the more limited amount of practice time we receive. It's truly more irritating than anything else."
     Despite all the hardships, the swimmers appreciate their season regardless.
    "This year will always stick out to me because it proved that no matter how tough the situation is, I can handle anything," Olshanski said. "All of the difficulties and hardships we faced this year made our incredible moments even more special, because it has taken our team a lot to get here."
     Little discussed a few of her successes this season.
     "Everyone technically places at dual meets, but I think my best races so far this season were against Fox Chapel where I took first in the 100 breaststroke and the 200 IM," Little said. "I won another close race against Hempfield in the 200 freestyle as well."
     The team's previous meet against Fox Chapel on Tuesday, Jan. 18 resulted in a loss for both the girls' team, 103-72, as well as the boys, 93-75.
     As the seniors move on to finish off the rest of their final season, many reflect on some of her biggest achievements of her high school career.
      "Medaling at counties during my freshman year was crazy," Olshanski said. "I was kind of an underdog, since I was only a little freshman. Standing on the podium was the first time that I had ever felt that my hard work had paid off."
     Olshanski continued to reminisce about her time as a swimmer at Norwin.
"
This year will always stick out to me because it proved that no matter how tough the situation is, I can handle anything. All of the difficulties and hardships we faced this year made our incredible moments even more special, because it has taken our team a lot to get here."
— senior swimmer Manya Olshanski
 "Since this will be my last season swimming, I know I am going to miss the pool so much, but I am so excited to start a new chapter in my life and to see all of the amazing things that swimming has taught me outside of the pool," Olshanski said.
Another big transition this season was the transfer of power to the new seniors. Olshanski was one such senior who had to step up.
     "Being named captain and using my role to try my best to make a difference on the team has made me a lot closer with the girls," Olshanski said. "I am going to miss hanging out with them and talking to them every day, especially Vicky. She is such an amazing leader, is so positive at every single practice, and cheers louder than anyone I've ever heard."
     Though the seniors have been making the most of their final season in unusual circumstances, many underclassmen have expressed their highs and lows this season as well.
      "The biggest challenge was getting back into shape because we couldn't have conditioning this year because our pool is under construction," junior Nathan Kostrobala said. "Moving into the postseason I think the team is doing good considering the circumstances and hope to see some time drops."
     Junior Anna Little continued her trend of strong competition by breaking a new personal record in the 100 breaststroke.
     "My best events are the 100 and 200 breaststroke," Little said. "The 200 breaststroke is not a high school swim event, but my fastest time for the 100 breaststroke was 1:05.80."
     Coach Federovich viewed this season in the macro when asked about the many obstacles this season.
     "There have been obstacles they have had to overcome," Federovich said. "Life lessons have been taught throughout the season. They have learned to adjust and deal with situations that are out of their control. Instead of feeling bad or being mad, quitting or giving up on themselves, they have done just the opposite and proved that they can and they will. Regardless of all of this, there are 4 out of 6 relays that have qualified and to date 4 individuals who have qualified in multiple events."
     Coach Federovich left her swimmers with optimistic and encouraging words.
     "We are just proud of how the kids were able to turn the season around," Federovich said. "They are making the best of it. Have shown commitment and dedication. It's not ideal, but we are doing it!"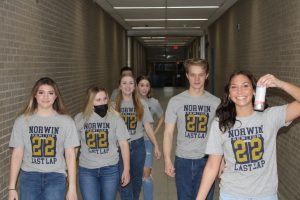 The swim team faces Plum at 6:00 PM on Tuesday, Jan. 25 at Plum High School, and Connellsville at 6:00 pm on Thursday, Jan. 27 at Connellsville High School.
Leave a Comment
About the Contributor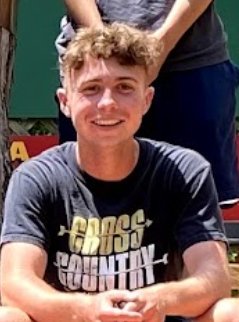 Max Christopher, Writer
Max is a second year writer for the Knight Krier.  He is a senior at Norwin High School who, in addition to the school newspaper, is involved in cross...