Model UN takes home awards at Westminster College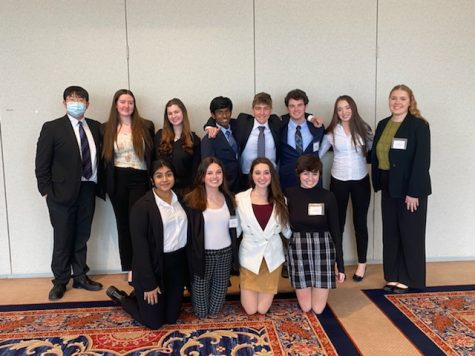 On April 21, twelve members of the Model United Nations Club attended Westminster College to compete in competition with other Pittsburgh area schools on various global issues.
Notified of what country and topic to research on weeks before the conference, much preparation goes into Model UN. Students learn of their country's history in economics, government structure, and military experience. They then apply that knowledge to take a stance on the assigned issue. At each event, conference hosts make sure to bring a variety of countries to the conference, assuring that there will be some debate on issues in each room where differing issues/ topics are assigned.
For those who wish to visit the club's website: https://sites.google.com/norwinsd.org/model-united-nations/home
At Westminster, there were 5 different committees. In each committee, attendees discussed different problems. The General Assembly First Committee dealt with improving Landmine Removal and preventing and regulating the militarization of outer space; the General Assembly Third Committee dealt with promoting the Repatriation of Cultural Artifacts and enhancing access to education for indigenous peoples; the World Health Organization dealt with ensuring the Equitable Global Distribution of COVID-19 Vaccines and providing access to adequate healthcare in conflict and post- conflict zones. Unlike the other committees, the Paris Peace Conference, a historical committee that places delegates in 1919 Europe, the conference discussed the future of post World War I Europe and the Revision of Territorial Boundaries. The final committee of the conference, the Security Council, discussed the most relevant, current global issue- the ongoing Russia-Ukraine military situation.
Despite original unfamiliarity with the topics, attendees-especially Norwin students- debated and discussed viable solutions. Junior Oliver Hinson, who represented China, won Outstanding Delegate, the highest award given to attendees.
"I was excited to have such a prominent role in my committee," said junior Oliver Hinson. "I definitely capitalized on the opportunity."
In addition, sophomore Rex Wu won Honorable Mention representing China as well.
"
Since this was the last Model UN conference of the year, bringing something home was a great feeling.
— Rex Wu, 10
In the group awards category, all Norwin students who represented China won Second Place Delegation in the entire conference. The Delegation of China consisted of Harneet Singh (9), Paige Tokay (10), Oliver Hinson (11), Rex Wu (10), Shawna Sinchak (12), and Maleah Phetsomphou (11).
"I was extremely happy to be back at Westminster," said club adviser Larissa Sturm. "The students always have a fantastic experience at the college and enjoy the different committees offered. It's a great way to end the UN season."
With no conferences remaining in the 2021-2022 school year, Model UN comes to a close; however, the club is planning to attend numerous conferences once again next year- including three possible travel conferences to the University of Virginia, American University, and Northwestern University.
Leave a Comment
About the Contributor
Maleah Phetsomphou, Writer
Maleah Phetsomphou is a senior at Norwin High School. This is her third year writing for the Knight Krier Newspaper. She is co-host of "The To-Knight...