Norwin Cross Country aiming to take back section titles
The girls' and boys' teams finished second and fourth in their section last year. In 2022, the Knights are hoping to reclaim Section 1.
Two weeks into the season, the Knights cross country teams appear to have made significant improvements.
To start off the season, the Knights XC teams competed at the Marty Uher Invitational in California, PA on Sept. 3. The girls' team took sixth place — despite the top runner Annie Czajkowski not finishing due to the heat and humidity near the end of the race — with medalist performances by juniors Audra Fedor and Rosemary Gaydos.
The boys finished in third place, a 10-spot improvement from last year, as senior Andres Breauchy and junior Noah Wilson led the way in 11th and 12th place overall.
On Sept. 10, both teams competed at the Red, White, and Blue Invitational at White Oak Park, a meet that featured nearly every team in the WPIAL, as well as several top teams from West Virginia. The girls finished seventh out of 33 teams in the varsity race, as Cjazkowski finished in 20th place with a time of 19:25.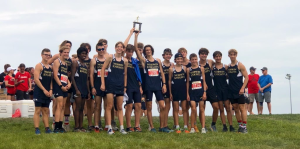 Boys' varsity took ninth place out of 32 teams, improving 17 spots from last year and dropping their average times from 19:05 in 2021 to 17:36. Breauchy once again led the Knights with a time of 17:03, while sophomore Thomas Gaydos set a personal record by nearly two minutes, finishing in 53rd place in 17:30. The boys' junior varsity team took second place, finishing behind only North Allegheny.
"I think things went really well [in the first two meets]," head coach Brian Fleckenstein said. "I think there were a lot of things we learned about the team. I think the boys, particularly, were untested… we had a bit of a rebuilding year last year, but I think they really stepped up. On the girls' side, I think they knew they had something to prove, and they put themselves in a great position."
The team has trained multiple times per week since June, with each athlete running averaging around 40 miles per week for the entire summer and some approaching 60 miles.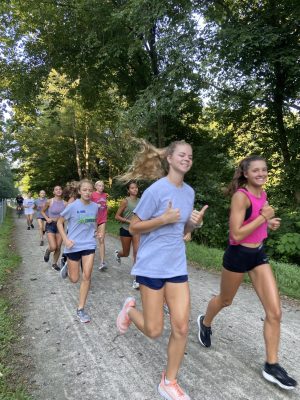 "This was probably the best summer we've had [training]," Fleckenstein said. "In terms of people attending and miles logged… we used the Strava running app, and I think it held people accountable."
After their first two invitationals, the Knights continued their winning ways in their first section matchups against Ligonier Valley and Indiana on Sept. 13. The boys won 19-40 against Indiana and 15-50 against Ligonier Valley. Gaydos again set a personal best in 17:11, beating Indiana's top runner to help lower the Knights' score.
"I let [Indiana's top runner] go for the first two miles, then I sprinted up the hill to make him feel tired," Gaydos said. "It felt great because before the race, I was feeling nervous, but when I started, I was in a great position."
The girls were similarly dominant, winning 17-42 against Indiana and 15-50 against Ligonier Valley.
"We stayed with Indiana for the first [1.5-mile] loop," Czajkowski said. "After that, we separated from them."
As a freshman, Czajkowski has led the Knights in every meet this year, creating an interesting dynamic on the girls' team. In middle school, she broke school records for the 800m and 1600m, and she had the fastest time of any freshman girl at the Red, White, and Blue Invitational by over 15 seconds, and  is currently the 6th fastest freshmen in the state of Pennsylvania.
"[Leading the team] feels good," Czajkowski said. "It's a lot of pressure, but it's alright."
Aside from Czajkowski, Fedor and Gaydos have also been consistent contributors, as has senior Emma Jiancristoforo, whose 2021 season was riddled with injuries. Fleckenstein believes the girls' team can be a top contender in the WPIAL.
"[The girls] got off to a really good start," Fleckenstein said. "I think we're going to surprise a lot of people."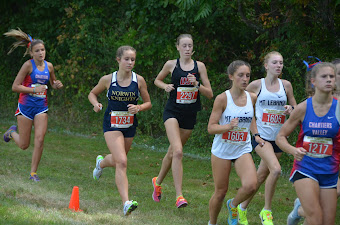 The boys' team has seen major improvements in the last year, as they retained most of their top runners from the previous season, losing only Max Christopher to graduation. Every member of the boys' varsity team set a personal best at the Red, White, and Blue Invitational, as did several runners on the junior varsity squad. 
"I feel like everyone's taking this year a little bit more seriously, especially with our summer training," Andres Breauchy said. "I think that's the reason why we're so good. That consistent training block, it really helps us."
With two wins already under their belt, Breauchy and the rest of the team are hoping to take back the section title after a disappointing fourth place finish last year. On Sept. 27, they take on Hempfield, the defending Section 1 team champion.
"It's gonna be tough [to beat them]," Breauchy said. "I think there's a chance we can win the section; we just need to go after them and split up their top five."
Beyond that, both teams are hoping to win the Westmoreland County Championship on Oct. 12. If they have a strong showing at the WPIAL Championship on Oct. 27, they could potentially qualify for the PIAA Championship the following week in Hershey, PA.
"Nobody has us on their radar," Fleckenstein said. "[The boys] just have to keep coming in and running confident, trusting in the fact that they've put in the work all summer."
Norwin's next competition is on Sept. 20, a home meet against Penn Trafford and Derry Area that will be the Knights' senior night and lone home meet of the season.
If the first few meets are any indication, Norwin's cross country teams are experiencing comeback seasons, and they could be major players in the WPIAL come October.
Leave a Comment
About the Contributor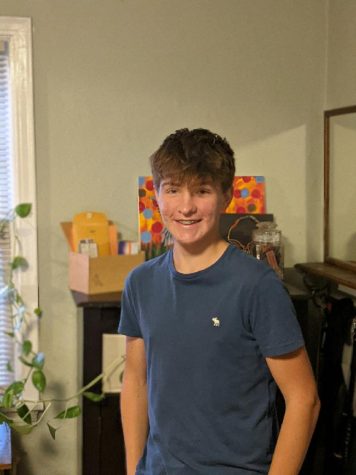 Oliver Hinson, President/ Website Manager
Oliver is a senior, and he has been a part of the newspaper staff for 3 years. He covers a wide range of topics, from school news to student features,...