Norwin Girls Volleyball rallies together for a chance at playoffs
The Norwin Girls Volleyball team remains resilient through a season of tough losses and encouraging wins. 
With an overall record of 4-8, the team continues to work towards securing their spot in the WPIAL playoffs.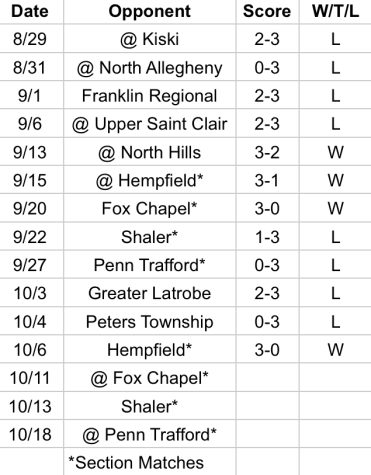 The early portion of the season was a bit rocky for the Lady Knights. With losses against Kiski, Franklin Regional, Upper St. Clair, and defending WPIAL 4A champions North Allegheny, the team found themselves consistently losing by one set. Setter Sophia Alvarez (12) linked this to the girls' high expectations for themselves. 
"Honestly, I think it's because we fold under pressure," Alvarez said. "We don't know how to just focus on one point at a time and keep the ball in play. We are definitely working on it and have gotten better, as was shown in the North Hills and Hempfield games."
As all of these losses were non-section, and won't impact the girls' chance at playoffs, they used them as learning opportunities to hone their skills and increase their confidence. The girls have identified their weaknesses and are working towards making things better. 
"I'd say our biggest weakness is that if a game is close, we get afraid to make mistakes and end up playing it too safe and not pushing through to the end of the game," Nicole Miller (12) said. 
The Lady Knights worked on not only their technical skills, but their mental game as well. 
"We know we're a good team even though we lost most of our first out-of-section games," Miller said. "Going into section games, we know that it is important that we win these games and that we have confidence in ourselves as a team. We're more prepared for these section games and have a more solid lineup than we did earlier in the season."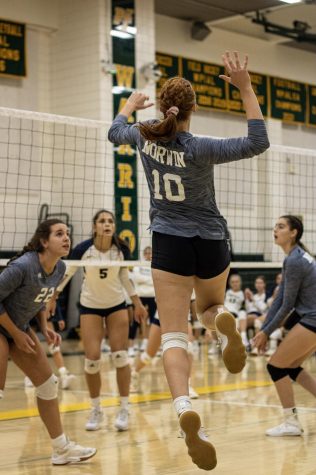 The Lady Knights had their first section game on Sept. 15 against Hempfield. They seemed to finally find their rhythm, as they won 3-1. Again on Sept. 20, the girls defeated Fox Chapel 3-0. They were no longer losing by one set, or suffering loss after loss. The team started off fresh with a section record of 2-0. 
Long time head coach Mary Ellen Ferragonio attributes the girls' success to their hard work and dedication.
"The girls get along well together and they work hard," Ferragonio said. "They are improving every day. They want to get better."
The Lady Knights view their success on the court as the direct result of their unwavering friendship. 
"I think that this team's biggest strength is that we are a very close team," libero (back row defensive specialist) Sara Olson (12) said. "We have gone out many times as a team outside of organized volleyball gatherings."
The coaching staff is confident that this years' group of experienced players will only continue to improve, and be one of four section 3 teams to make it into the playoffs. 
"The strong senior class we have this year really helps out the team because they have a lot of experience from years of playing and competing," Ferragonio said. "They are used to being in tight situations and working their way out of them. They have experience being in the playoffs and they're all really good."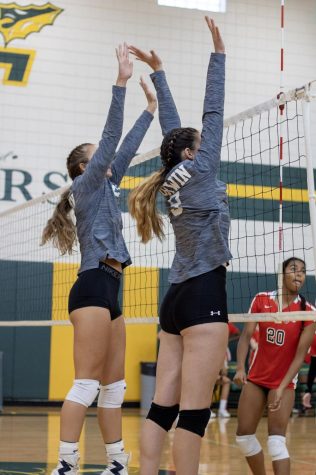 The girls' season hasn't lacked adversity. The end of September brought the team two back-to-back section losses. On Sept. 22 the girls lost to Shaler 1-3, and 0-3 to Penn Trafford on Sept. 27. With both games counting towards their official record, they will undoubtedly affect the teams' standing when it comes to making the playoffs. However, with the work and time they are putting into their game, they are determined to make it to the playoffs and do well.
"We are ranked, and there are a lot of teams ranked above us that we could still beat," Alvarez said, "so I think we will at least make it [to the playoffs], and probably go far too. Even if we lose, as long as we play hard and give it our all, I will be really happy."
With their last section match being a 3-0 win against Hempfield on Oct. 6, it is clear that the Norwin Girls Volleyball team is planning on fulfilling their dream. 
Leave a Comment
About the Contributor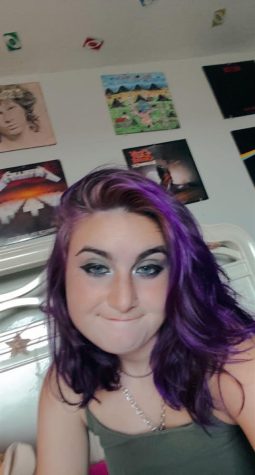 Elizabeth Long, Writer
 Elizabeth is a senior and a second year writer for the Knight Krier. She is the Vice President of the Science Challenge Squad, Treasurer of the Student...