Beating the unbeatable
Norwin's Sydney Willig inducted into WPIAL Hall of Fame Class of 2022.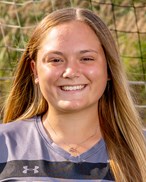 Annually, the Western Pennsylvania Interscholastic Athletic League(WPIAL) honors athletes, teams, and coaches deserving a place in the WPIAL Hall of Fame. This year, Norwin was fortunate enough to have their own Knight inducted into the WPIAL Hall of Fame Class of 2022.
     Sydney Willig '21 will be inducted with the WPIAL Courage Award- an award given to solely one member of each class on May 27 at the Double Tree Hotel in Greentree.
     At only 2 weeks old, Willig was diagnosed with Cystic Fibrosis, a genetic disorder that causes a building of mucus in lungs and airways. Although Willig battles CF daily, she pushes through, beating all expectations. 
     Willig attends Geneva College in Beaver Falls,  majoring in elementary and special education. She is a member of the women's soccer team, and plans to join the female rugby team in the spring. 
     "Geneva is starting a women's rugby team that I will be a part of," said Willig. "Of course I had to join another sport!"
     Outside of soccer and school, Willig devotes her time to improving herself and the Beaver Falls community. She is a part of the BETA leadership program and Tiger Pause Youth Ministry organization. Each week, Willig and other members of Tiger Pause spend time with children in the Beaver Falls area feeding them meals, playing sports, and teaching how The Bible can be a part of their lives.
"
"I really enjoy serving the community. Spending time with children while providing a safe environment for them is great.""
— Sydney Willig
     Willig first heard about her induction into the WPIAL Hall of Fame while walking out of one of her classes. Her mother, Lisa Willig, called her on the phone
     "At first when I got a call from my mom, I thought that something bad happened. When she told me that she received news from Mr. Burrell, the current Norwin athletic director, about my nomination into the Hall of Fame, I realized it wasn't something bad at all."
     Willig's induction into the Hall of Fame is important to her, and proof that people can push past difficult challenges.
     "Winning this award shows how much hard work I've put in to show that I can beat the unbeatable. I can be better than what people thought I would turn out to be."
    Willig hopes to inspire others struggling through hard times.
     "People can push through and overcome what is in their way. They can not let anything get them down. There is someone always watching and someone you can surprise."
     In addition, Willig gives specific advice to those fighting CF.
      "Make sure you are always doing your treatments, staying up to date with your medicine, and have hope. The new medicine that came out, Trikafta, allowed me to play soccer again. Good things will eventually come."
     On May 27, the WPIAL will hold an awards and induction ceremony for the Hall of Fame Class of 2022 inductees at the DoubleTree by Hilton Hotel in Green Tree. Tickets to attend the event will be open to the public in the spring.
Leave a Comment
About the Contributor
Maleah Phetsomphou, Writer
Maleah Phetsomphou is a senior at Norwin High School. This is her third year writing for the Knight Krier Newspaper. She is co-host of "The To-Knight...