Inside the classroom: PennDOT Innovation Challenge, AP Statistics
On February 22, eight students from Mr. Thomas Harskowitch's AP Statistics class participated in the annual Pennsylvania Department of Transportation(PennDOT) Innovation Challenge. The participants did well, with one pair of students earning the spot to move onto the statewide competition in Harrisburg.
Annually, PennDOT holds a competition challenging students to improve the public's engagement with PennDOT. Past challenges have dealt with developing sustainable sources of energy on the road, creating an app to properly clean up litter, and establishing a system that rewards drivers for driving safe in work zones. This year's challenge was to develop a comprehensive and cost-effective public engagement strategy, beyond the current public engagement procedures, outlining innovative technologies and tools that PennDOT can implement to more effectively engage and connect with all age groups during the transportation planning and project development process(PennDOT).
This year, all students enrolled in the high school's AP Statistics class submitted a proposal, each with a different solution to the assigned challenge. Students were required to write a essay outlining their idea, in hopes the regional judges would select them to move onto the statewide competition. Eight Norwin students- seniors Molly Hudson, Paloma Swankler, Luke Snyder, Zachary Moffatt, Robert Chappell; juniors Maleah Phetsomphou, Brady Johnson, and Andrew Wade- were selected by PennDOT to move onto the regional round.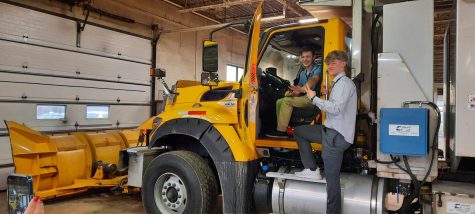 "It was a great honor to be chosen by PennDOT to present my project at the District 12 headquarters," said junior Brady Johnson. "I hope to move onto the state round, but I wish whatever team chosen the best of luck."
Regionals was held at the PennDOT facility in Uniontown. Upon arrival, students checked in with the secretary at the door, pinned "visitor" name-tags to their clothes, and headed to room filled with students from other schools also waiting to present.
"The entire PennDOT experience was cool," said senior Molly Hudson. "It was nice being able to go with such a great group to share the ideas we created."
Despite the nervous tension held by participants, various PennDOT employees welcomed students. While waiting to present to the panel of judges, students were given presentations on driving safety, instructed on upcoming PennDOT projects such as diverging diamonds, and challenged by a state trooper to pass a DUI test while wearing Fatal Vision Alcohol Impairment Goggles.
"The activities before and after presenting were very fun and informative," said senior Robert Chappell. "When we wore the drunk goggles, that showed us that none of us could barely walk- let alone drive while impaired."
When the time came to present, each student group walked into another room where the panel of judges sat. Students presented their proposals projected onto a large screen, hoping their idea would grab the attention of each judge. At the conclusion of the presentation, the judges added commentary.
"After presenting, my partner and I felt we did a good job," said Chappell. "We got some feedback about what we could have done better from the judges, but we still felt our idea and presentation was solid."
At the end of all presentations, students remained at the PennDOT facility for a few more hours, receiving at tour of the Fayette County Garage. The garage holds numerous snow and salt trucks. Students were first instructed on the intricate process of finding the most effective salt for treating roads. Then, they were given a chance to touch and climb into the large vehicles such as snow plows.
At the conclusion of the tour, PennDOT employees closed the day with advertising internships students could apply to. They demonstrated that PennDOT is beyond maintaining and fixing
roads.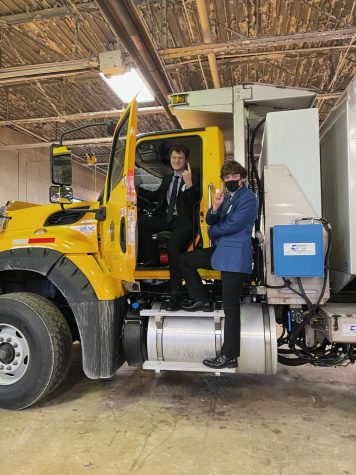 On March 4, PennDOT announced that students Robert Chappell and Zachary Moffatt would be moving onto the state finals at Harrisburg.
"To be able to move onto the next round is really exciting," said senior Zachary Moffatt. My partner, Robbie, and I have been looking forward to hearing the results for a long time."
In April, Moffatt and Chappell will present in Harrisburg in front of a panel of PennDOT employees- including the Secretary of PennDOT, Yassmin Gramian. If lucky, they may have the chance of meeting the State Governor, Thomas Wolf, like students have in years past.
Leave a Comment
About the Contributor
Maleah Phetsomphou, Writer
Maleah Phetsomphou is a senior at Norwin High School. This is her third year writing for the Knight Krier Newspaper. She is co-host of "The To-Knight...